Norma McCord, a long-time United Church refugee program supporter, says the work is in her blood.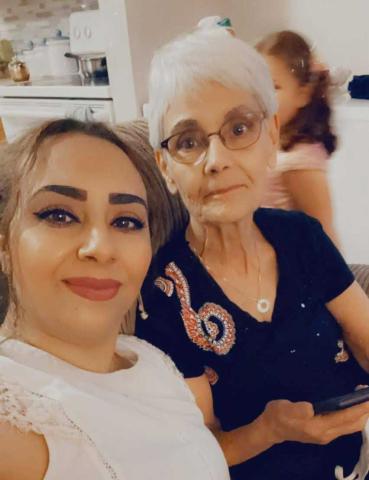 Norma McCord, a long-time refugee program supporter (right), with Nisreen Alhussain, who was sponsored four years ago through MacKay United Church and the Ottawa Korean Community Church, where Norma was co-chair.
Credit: Courtesy of Norma McCord
Published On: June 20, 2022
When I had emailed Norma McCord with an invitation for a call or to meet over coffee, she had replied with a list of items she had for the day, one of which included a meeting with a local refugee agency and the other was picking up a refugee-newcomer-turned-friend from a medical appointment. But yes, she would be happy to have a chat. This was a testament to the person I have learned Norma to be; with a fire in her belly and an insatiable desire to help others, having just turned 80, she shows no sign of slowing down.
Norma McCord is one of the active and long-standing members of The United Church of Canada's Refugee Advisory Group (RAG). When I first met with members of the RAG one-on-one, I was floored to learn that a good majority of them have been active in refugee work for longer than I've been alive.
When asked what made her interested in getting involved in refugee work, she responded "It's in my blood." Her father was an Italian migrant, leaving his homeland for Canada due to poverty and famine, and her mother's ancestors came to America as refugees from Europe. Although Norma was born in Canada herself, she still acknowledges the privileges availed to her through the migration of both of her parents.
Norma had her first foray into the refugee sphere in the 1970s by helping Chilean refugees. No formal sponsorship system existed at the time, but she was among a group that helped refugees get established and build a home. It was not until 1979 when the Private Sponsorship of Refugees (PSR) program was established by the federal Government of Canada (then Citizenship Immigration Canada (CIC), now Immigration and Refugees Canada (IRCC)).
From 1978 to 1983, Ottawa resettled around 4,000 Vietnamese, Cambodian, and Laotian refugees ("Project 4000"). Once the project had been completed, it was voted against maintaining an official committee for sponsoring refugees. Asked to represent The United Church of Canada, Norma was one of a handful of people who decided they would continue to meet, and together they formed the Coalition in Ottawa for Refugees (COR). The COR took it upon themselves to meet regularly as a group and host workshops to train sponsors on resettlement.
Although formally trained as a nurse, she had difficulty finding work after a familial move to Ottawa, which is how she wound up working with immigrants and refugees through a local settlement agency, where she stayed just short of a decade. In this position, her primary job was to run a host program where she matched community volunteers to Government Assisted Refugees (GARs).
Today, Norma is still very present in the effort of refugees. She has fervour and passion for the work, along with a deep well of knowledge and a long Rolodex of names she pulls from effortlessly when she speaks. She believes her primary role to be that of a connector – someone who creates bridges. During our conversation, I asked what keeps her going. She smiled and replied, "My soul is always fed." She elaborated by saying that there are many people involved in the work of bringing refugees over and helping them resettle, and watching them all come together has been inspiring. She left me with one last token of wisdom, gained from her many years of working with displaced people: "The world is a good place, even if terrible things happen."
—ChrisAnn Alvarez, Refugees Support, The United Church of Canada
Stay up to date on United Church refugee program news and information by subscribing to our newsletter, Refugee Sponsorship News.
The views contained within these blogs are personal and do not necessarily reflect those of The United Church of Canada.