The Black Clergy Network celebrates and welcomes Michael Blair as the new General Secretary.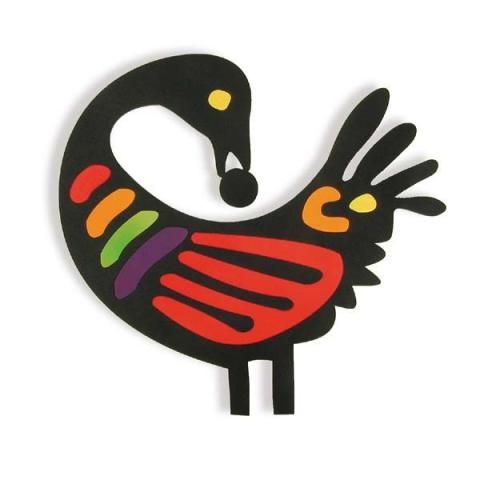 The Sankofa bird
Credit: Logo for the Sankofa Global Project, Public domain, via Wikimedia Commons
Published On: November 2, 2020
The Black Clergy Network in The United Church of Canada has offered a prayer of support for the Rev. Michael Blair, as he begins his new role as the General Secretary, General Council.  
Dear Michael,
It is with joy and hopeful anticipation that we, members of the Black Clergy Network of The United Church of Canada, celebrate and welcome you as the new General Secretary, General Council of The United Church of Canada.
As you move into this ministry, we bring prayers of gratitude and of hope. If we could, we would encircle you, lay on hands and pray a blessing. Even though we cannot do this in person, in the Spirit may you know our presence right there with you.
May you feel our hands on your head and your shoulders as you read our words of prayer:
O Gracious God, we thank you for your manifold gifts to us and through us.
We thank you that Michael has offered himself to the role of General Secretary, General Council of The United Church of Canada, and that the church has seen fit to entrust this role to him.
We thank you for the many gifts and skills that Michael brings to this role, for his depth of faith, wisdom, and grace, and for his wealth of experience and understanding of the church and world.
We are especially grateful for the gifts he has shared with so many of us over the years: leadership, mentorship, patience, kindness; for his modeling of the kind of persistence, and calmness that can see us safely through obstacles and challenges, and  for his model of faith that helps keep us focused on your call for our ministry and for The United Church of Canada.
And God of the ages, we thank you for the many ancestors in faith who worked hard for racial justice and full inclusion in the church, and whose struggles and sacrifices made it possible for Michael to be appointed to the position.
We thank you for this historic "first", and the fact that we can celebrate that this represents the first time a Black person has been appointed to such a position in a Canadian church, and the first time an openly gay person has been appointed to such a position in a North American church.
Gracious God, as Michael begins this ministry, in hope we pray,
May you continue to form and fashion Michael in the Imago Dei, in your image.
We ask for support for Michael as he undertakes a very difficult and high-profile role in the life of the church. May you keep him safe and healthy. May he not forget who he is and whose he is.
May you shower him with Wisdom until it seeps from every pore, protect him from colour blindness and colour celebrating. May you keep him focused, yet grant him rest. 
May the joys of the position far outweigh the challenges; may stresses be balanced with inspiration and hope-filled possibilities. May he be blessed, even as he blesses others.
May you give him a fresh anointing of wisdom and empathy to fulfil his duties. May he be brave like Esther and as truth-telling as Mordecai.
May he be reminded that while he stands on shoulders, his own shoulders are being prepared for others to stand on.
Help him to fill the role of General Secretary grounded in the strength of your presence, following in the Way of the Christ and carried forth in the wisdom of the Spirit.
And God, we pray that you work in and through us all, that we as individuals and as a church may continually grow in the power of your presence, into a more full witness of the love and grace shown to us in Christ, and given to us in the Spirit.
Amen
Michael, we celebrate that in the sea of pebbles God chose you! You have been fashioned and formed by the Eternal Hands over time, now it's time for new horizons. 
May you know that as you fill this role, you are surrounded and supported with prayer. God be with you as you begin this new chapter in your ministry and in our church.
Conscious of the cloud of witnesses that have brought you and our church to this point, we lift up the image of the Sankofa bird.
Arising from the Akan people of Ghana the Sankofa symbolizes the Akan people's quest for knowledge, a quest that is based on critical examination, and intelligent and patient investigation.
As the Sankofa goes forward while looking back, Akan wisdom tells us that the past serves as a guide for planning the future.