We weep with those who are grieving, and lift prayers of lament with all those whose souls cry out this day.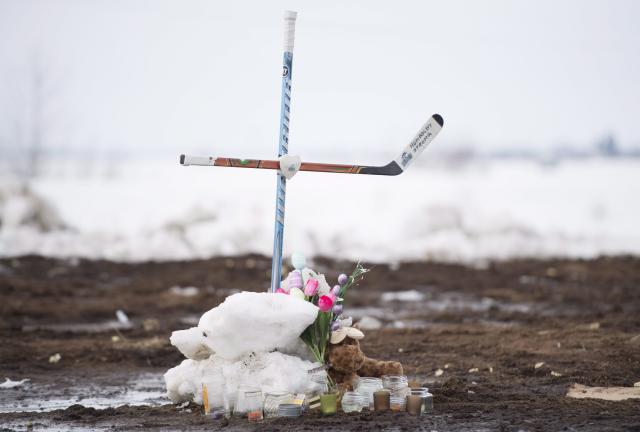 Credit: The Canadian Press/Jonathan Hayward
Published On: April 10, 2018
Last Friday night, our hearts were still full of the joy of Easter's glorious resurrection when news of the terrible bus crash near Tisdale, Saskatchewan took us back to the depths of Good Friday's sorrow and confusion.
The Humboldt Broncos hockey team was on its way to a semi-final game when a transport truck collided with the team's bus, leaving a wreckage of twisted metal and broken bodies. Life changed in an instant for the families, friends, and communities of the 15 who died, and for those who were injured. Everyone who survived the crash, including the driver of the transport truck, will remember the horror of that night forever.
How does one make sense of such a thing? What does one say about something so senseless?
Krystal Sheremeta, President of Saskatchewan Conference, (and minister in Nipawin where Friday night's game was to have taken place), offered beautiful words of comfort in the message she posted on Saturday. She wrote of God's heart being the first to break, and said, (and this is just part of her 
powerful message
):
"Today as our souls cry out in shock, grief, and heartache, as we are overwhelmed by the devastation again and again, we are assured that the Holy Spirit intercedes for us with sighs too deep for words. When no words will suffice, when our prayers are the tears and stunned silences, we know these too are holy. We weep with those who are grieving, and lift prayers of lament with all those whose souls cry out this day."
One of the teenagers who died, 
Brody Hinz
, was an active member at Westminster United in Humboldt. A huge sports fan, he was delighted when he was chosen to be the Broncos' team statistician. His minister, Brenda Curtis, who now is preparing for his funeral, told me that the notes, cards, Facebook postings, emails, and texts, (more than she can personally respond to) that have arrived over the past few days, are "a literal outpouring of love from our United Church right across Canada… and are giving us strength here at Westminster United to keep going… to keep 'being the church' in our community and for our grieving families."
Brenda was one of the clergy who led the vigil on Sunday night that was held in the Humboldt community arena, and 
broadcast to the nation on CBC
. I am not sure whether she had turned to our 
New Creed
 when she was trying to figure out what to say, or if those words are just so deeply embedded that they came out when Brenda was searching for how to pray at such a time. She invited everyone present to reach out and take the hand of someone next to them, explaining, "In a few minutes, when we go our separate ways, I want you to recall the touch, warmth, blessing of that hand, to remind you that you are not alone, that we are not alone…."
And then she prayed to our holy and merciful God, "As we leave here, help us to know that in times of tragedy when we can see no way through the pain, help us to know we can put our trust and our faith in you. In life, in death, and in life beyond death, you are always with us tender God, encouraging us, loving us, and opening a path of healing for us all."
On Good Friday, we grieved with the assurance that Easter would come. My prayers today are with all of those in Humboldt and with the families and communities of each of those who were killed or injured, praying that they will be held in God's warm embrace during this time of deep pain, and that, in time, they will come to know joy once again. 
God is with us. Thanks be to God.  
—Nora Sanders is General Secretary of The United Church of Canada. 
This message was originally sent to subscribers to the General Secretary's email message, "Note from Nora." Subscribe here.