Through Gifts with Vision you can send a kid to camp and create new opportunities for life-changing personal and spiritual growth.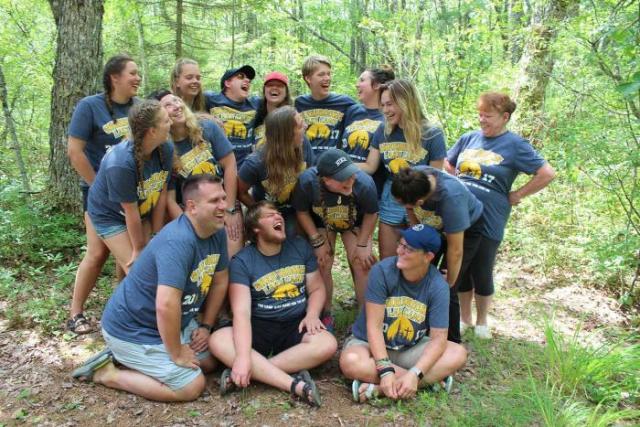 Published On: November 21, 2017
I would not be who I am, without camps.
My first foray with camps was in 1999, when I joined the team at Sherbrooke Lake Camp in Nova Scotia as a Counsellor-in-Training. Like most 15-year-olds, my mom had to convince me to do most things that were good for me – and that included camping. I was one of those quiet kids who had zero self-confidence and frankly, I didn't "get" the church. I attended with my mom for as early as I remember so it was part of my Sunday routine. But it was after my first summer of camp that I really started to better understand what she was trying to do.
Since 2000, I have held pretty much every role at camp: moving up the ranks from Counsellor, to Recreation Director, to Camp Director, to Chair of the Board. These days, I'm the Executive Director of Sherbrooke Lake Camp in Franey Corner, Nova Scotia. That's about 100 kilometres west of Halifax.
Our camp is one of five that benefit from Gifts with Vision donations. And I know that I, and other camp leaders are proud to play a role in moulding children for their future. While kids have a blast when they come, our camps are not just strictly about fun. It's also about personal and spiritual growth for all of us — campers, volunteers and staff. We learn about respecting everyone and all of their differences. We also give people a safe space to explore their spiritual journey. More than ever in this time of change, United Church camps offer us all a place of peace and guidance through times of chaos.
Looking back, I never thought that as a quiet teenager so many years ago, that I would end up having a calling and making a career out of this camping ministry. I think it's because it was camp that taught me to be confident. Camping showed me the value of making goals and keeping them. And it was camp that taught me to be me. Eight years after starting camp, I was elected as the youngest member of the Legislative Assembly in Nova Scotia history. I don't know if I would have had the courage to run for office, or had gained the leadership skills I have now, had it not been for the valuable experiences I learned and gained at camp.
This Giving Tuesday please consider giving a Gifts with Vision gift to Send a Kid to Camp. Camping made a difference for me and I know it will help other kids that were like me too.
—Mat Whynott is Executive Director of Sherbrooke Lake Camp in Franey Corner, Nova Scotia. 
Mat Whynott will be one of the guests for our Giving Tuesday event on Tuesday, November 28. If you're in Toronto, join us at the General Council Office. Otherwise, join us on Facebook Live at 10:00 a.m. Eastern Time.