Kelsi James, United Church of Canada Overseas Personnel in China, writes on her experience of finding authentic community so far from home.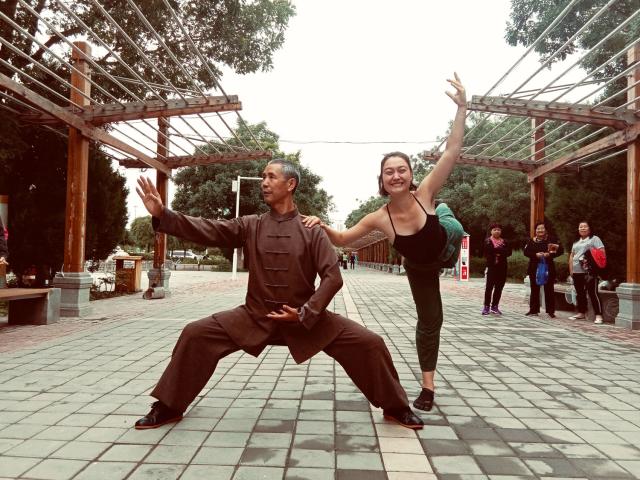 The author (right) shares her ballet skills with a Tai Chi master in Jiuquan, China.
Credit: Sally Wang
Published On: November 19, 2019
Last June, I completed my university degree. After four years of hard study, sleepless nights, sore muscles, a tired brain, and so much learning I thought my mind and body might burst, I finished school –  and immediately began to work in my field, balancing several jobs at once, navigating renting an apartment in Toronto, balancing bills, and crafting my time without the structure of formal education. And then, four months later, I got on a plane, and flew 24 hours to Lanzhou, China.
And I began a new breath of learning.
Here, I am grounded and I am humbled and I am inspired. I do not yet speak the language or read its characters, and so I talk with my hands, and with smiles (and with a handy translating app). But moreover, I listen. I have to. I listen, and I watch, and my heart fills. And though I am here to teach, more than anything, I learn.
I learn about welcoming, about inviting guests into my home with tea and cookies and a plate of fruit. About offering small gifts to say thank you. About treating new friends to a meal as a means of getting to know each other.
I learn about courage and curiosity and straight-up mischief from my beautiful students, who try so hard to connect and to learn, even though it's so vulnerable for them. I learn to show them my vulnerability, to ask them to help with my Chinese, to help me navigate around town, to recommend the best places to eat. I learn that we share joy, and we share humour, and we share a love for music that goes beyond our language and our cultures. I learn to bring my guitar, and to lend it out, and to sing and sing and sing.
I learn about generosity and patience from all the gentle, giving souls who so creatively and diligently persist in communicating with me. At the bank, I struggle to make a bank account – and the teller uses her translating app to ask me questions, and guide me through. At the cafeteria, I explain, in halting Chinese, that I am a vegetarian – and the two ladies who serve lunch make a point every day thereafter to point to what I can eat. At the post office, I try to send my election ballot back to Canada, and the person working uses miming and gestures and a translating app to get my letter in the air, and gives me a strong thumbs up when I leave.
I learn about community, quite suddenly, while eating out with my fellow teachers. We are eating "hot pot," chopsticks crossing, all nourishing ourselves from the same giant pot, and I realize, in a grand sense, that in this life, as well as in this moment, we, as human beings, all eat at the same table, and share the same plate. I sit around this table, where I can look joyfully into everyone's faces and smiles, and so many miles from home I feel such profound kinship, such deep fellowship, such clear community.
And I suddenly recognize that this humanity, this life, this beauty and spirit and Spirit vibrate so deeply in all of us. We, as human beings, and not as people from different countries, all share this beautiful spark of life. We are meant to connect, meant to know each other. Being here, where I cannot communicate easily, I listen, so deeply. And when people reach for me, with their smiles and their hearts, I cannot help but feel them, so strongly. Here, in this way of living, I cannot tune out, I cannot disconnect; here, I have to be present, and I have to – and I get to – feel so intensely.
And I cannot help but rejoice.
– Kelsi James is United Church of Canada Overseas Personnel, currently serving as an English teacher in Lanzhou, China.