United Church member Setsuko Thurlow survived the 1945 nuclear attack on her city, and has been leading disarmament efforts ever since.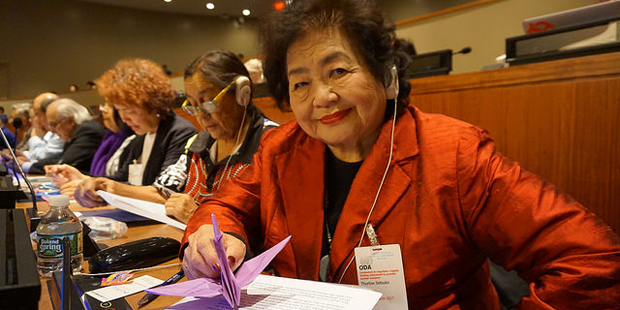 Credit: Courtesy of icanw.org
Published On: December 8, 2017
Setsuko Thurlow, a long-time United Church member who is also a survivor of the 1945 atomic bombing of Hiroshima, will receive the 2017 Nobel Peace Prize on behalf of the International Campaign to Abolish Nuclear Weapons (ICAN) in Oslo on December 10.
Joining Setsuko in receiving the award, one of the most grassroots Nobel prizes ever awarded, will be Beatrice Fihn, Executive Director of ICAN. "Survivors of the atomic bombings of Hiroshima and Nagasaki (known as hibakusha) are living witnesses to the horror of nuclear war," Fihn says. "World leaders must heed their call for a nuclear-weapons-free future."
When the atomic bomb hit on August 6, 1945, killing more than 140,000 people, Setsuko was a mobilized student for the war effort, and was at the army headquarters approximately 1.8 kilometres from the hypocentre. Eight of her family members and 351 of her schoolmates and teachers died in the attack.
"As a 13-year-old schoolgirl, I witnessed my city of Hiroshima blinded by the flash, flattened by the hurricane-like blast, burned in 4,000-degree Celsius heat, and contaminated by the radiation of one atomic bomb," she said in 2014, as she addressed the Vienna Conference on the Humanitarian Impact of Nuclear Weapons.
"Miraculously, I was rescued from the rubble of a collapsed building…most of my classmates in the same room were burned alive. I can still hear their voices calling their mothers and God for help…within that single flash of light, my beloved Hiroshima became a place of desolation, with heaps of rubble, skeletons and blackened corpses everywhere. Of a population of 360,000─largely non-combatant women, children and elderly–most became victims of the indiscriminate massacre of the atomic bombing."
"As I escaped with two other surviving girls, we saw a procession of ghostly figures slowly shuffling from the centre of the city," she said in the 2014 address. "They were bleeding, burned, blackened, and swollen. Parts of their bodies were missing, flesh and skin hanging from their bones, some with their eyeballs hanging in their hands, and some with their stomachs burst open, with their intestines hanging out."
In 1955, she married Canadian Jim Thurlow. A few years earlier, he had started teaching in Japan at Kwansei Gakuin, a school that was supported by the United Church of Canada. His obituary notes that his time in Japan "changed his perspective from a traditional Western-focused view to a broader, deeper worldview."
The couple moved back to Toronto and were active in various peace and disarmament organizations. In 1974, Setsuko established Hiroshima-Nagasaki Relived, a group that reminds people of the horrors of Hiroshima and Nagasaki through photos and stories.
Since then, she has travelled to dozens of countries to share her testimony of survival and alert people to the grave threat that nuclear weapons pose to all humanity. She has been part of several global voyages on the Peace Boat, a Japanese ocean liner that actively promotes nuclear disarmament.
For her work to achieve a more peaceful world, Setsuko has received numerous honours, including the Queen Elizabeth II Diamond Jubilee Award in 2012. The city of Hiroshima designated her a "peace ambassador" in 2014, and the Arms Control Association named her "arms control person of the year" for 2015. In 2016, Setsuko was awarded the Ahmadiyyah Muslim Peace Award in London, in recognition of her life-long activism for peace and justice. And in 2006, she was made a member of the Order of Canada for her efforts to rid the world of nuclear weapons.
Setsuko, now 85, believes she has a moral imperative to abolish nuclear arsenals, to ensure a safe and just world for future generations. "Through months and years of struggle for survival, rebuilding lives out of the ashes, we hibakusha became convinced that no human being should ever have to repeat our experience of the inhumane, immoral and cruel atomic bombing."
—Paul Russell is Communications Coordinator with the Office of the Moderator and General Secretary.