Camping ministries can set a direction for the journey of God's people into the future. We are not alone in this work, and stronger when we share best practices and support each other.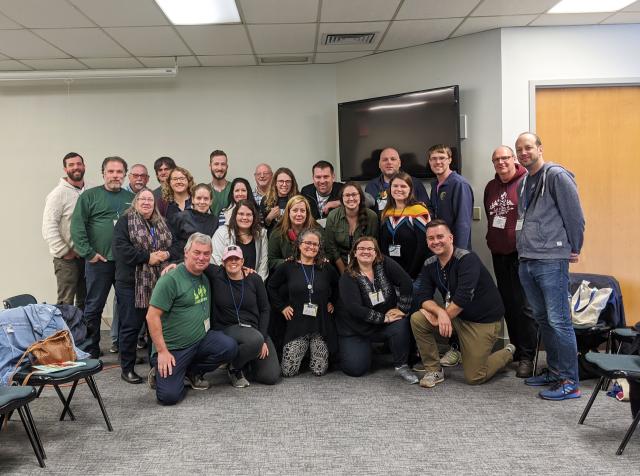 United Church of Canada participants at The Great Gathering.
Credit: Outdoor Ministries Institute Canada
Published On: March 3, 2020
At The Great Gathering in November of 2019, 24 people from United Church of Canada camps, joined more than 540 innovative outdoor ministry partners gathered at Lake Junaluska Conference and Retreat Center in the beautiful Blue Ridge Mountains of North Carolina. The event was hosted by Outdoor Ministries Connections, a consortium of mainline denominational camp and retreat associations, including Outdoor Ministries Institute Canada (The Connection Network for United Church of Canada Camps, Education, and Retreat Centres). Two United Church camp participants share a bit about their experience below.
Vicki Nelson, Lumsden Beach Camp:
Over the years I have noticed two connected identities about what it means coming from the Prairies. The first is that if you want something interesting to happen in your community, you are probably going to need to be the one to do it. Saskatchewan — at least where I tend to roam — has a strong DIY culture. From the arts, to small business, to creative non-profits, lots of things bubble up from people with good ideas working together.
The second thing that I have noticed, through a hundred small encounters, is that Saskatchewan people and organizations are pretty self-effacing. We assume that we are always lagging behind. That we are showing up late to the party. That our organization, business, concert or camp, is the smallest with loads to learn and less to give. Saskatchewan people suffer from a bit of imposter syndrome.
Despite evidence of success at the camp I work with — Lumsden Beach Camp — I arrived in warm, sunny Asheville, North Carolina, feeling sure that everyone I would meet came from big camps, operating year round, with giant, flourishing budgets. I was a freshman showing up to a party of seniors, pretending to be cool. In the first keynote gathering, I learned that in a way all 500 people gathered were freshmen.
The Great Gathering — a camping conference for 11 different Christian denominations in Canada, the U.S., and Puerto Rico — had never happened before. All of these mainline denominations are seeing similar trends in their churches with shrinking resources; and a few years back some visionary people saw an opportunity to share expenses, expertise, and to gain more by working together.
The second thing I learned was that lots of the camps gathered there were only a few years old, or had very new staff, or served less campers than Lumsden Beach Camp. Or they could not retain staff, or didn't fully understand their relationship with their denomination, or ran for four weeks a year, or were dealing with big changes in funding. In many ways, we were all the same with our various laundry lists of challenges, although no two camps were strong in the same ways or shared the same struggles.
Throughout those four days I realized that beyond the inspirational keynotes and engaging workshops, getting camps together was about peer learning and a reminder that we are not in this work alone. While congregations, and denominations in general, navigate through changes in attendance, in giving, in theology and political stances; camps are there too. Some of our challenges are different, but camps also have a lot to give to their denominations and each other.
I am working at shedding my imposter syndrome, by getting to know folks from other United Church camps and sharing what resources I can. I also want to let readers know that in the middle of this country, in Treaty 4, on the shores of a lake surrounded by dry grasslands, exceptional things are happening at Lumsden Beach Camp.  
—Vicki Nelson, executive director at Lumsden Beach Camp. The camp is a short drive from Regina, nestled in the beautiful Qu'Appelle Valley and hugging the south shore of Last Mountain Lake in Saskatchewan.
Janice Noble, Camp Kidston:
Even during the winter months, summer camp staff are always busy learning, planning, and preparing for another amazing summer! I was incredibly fortunate to have the opportunity to attend The Great Gathering on behalf of Camp Kidston.
As a new camp director attending a conference of this scale was an incredible opportunity for learning and for networking with others. I was able to connect with fellow staff and directors from other United Church of Canada summer camps, in addition to connecting with other summer camp professionals from across the United States and Canada. It was inspirational to hear what other summer camps are accomplishing, and I left with a long list of new ideas and new contacts.
Aside from the many new connections I met, the highlight for me was the variety of sessions and keynote presentations I was able to attend. The keynotes and community sessions included speakers such as Joan Garry and Jim Cain, whose enthusiasm and experience were invaluable.  There were also countless options of sessions to attend that catered to every attendee, whether you were a program staff, director, executive director, or board member.
I attended sessions on a variety of topics, including building a better staff culture, the role summer camps can play in responding to climate change, and making summer camps more accessible to everyone. The presenters of these sessions were incredibly insightful, although I also gained a lot from listening to the ideas and experiences of other attendees and their respective summer camps at each of these sessions.
I also immensely appreciated the time that was set aside to connect with other United Church of Canada attendees and other attendees located within the same geographic region. These community-building sessions allowed meaningful partnerships to be developed and I look forward to continuing to work with many of these connections in the future. The week was also rich with great hospitality, music, and evening events. An outing to Asheville only added to the adventure and solidified the new friendships.  
Coming into the conference, I was unsure of what to expect, especially as a young, new director. However, after soaking up every opportunity to learn and grow, I cannot stress enough how important it is to take advantage of these professional development and partnership-building opportunities. I left the conference feeling fulfilled and inspired, and ready to hit the ground running for another amazing year at Camp Kidston!
 —Janice Noble, director of Camp Kidston which is nestled on the northern shores of Long Lake in Middle Musquodoboit, Nova Scotia.
For more information: