United Church representatives join Christians from around the world in Tanzania for the Conference on World Mission and Evangelism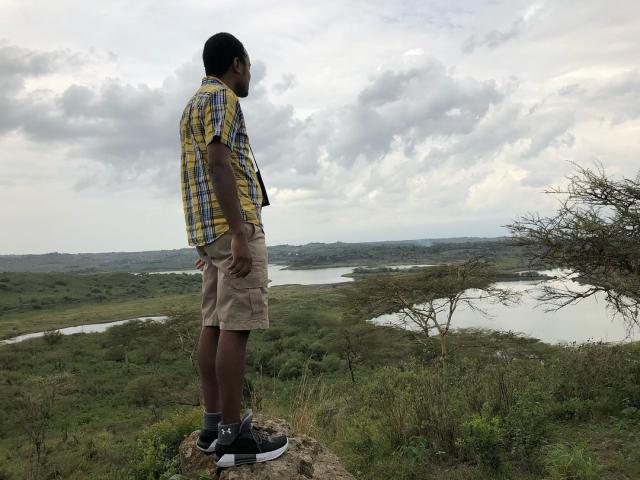 Author Adam Kilner looking out over the Tanzanian landscape.
Credit: Courtesy of Adam Kilner
Published On: April 3, 2018
Author Adam Kilner was one of the United Church participants in the World Council of Churches' Conference on World Mission and Evangelism, which took place March 8-13, 2018 in Arusha, Tanzania.
As the Dreamliner touched down in Addis Ababa, after 13 hours crossing the Atlantic and the great Sahara, I glanced out the window and noticed the terminal: "Welcome to Ethiopia – Land of Origins," it said. I was at a loss for words, unable to articulate the depth of my wonder, being in the land where the coffee bean was born, where the famous skeletal remains of Lucy (a partial skeleton of Australopithecus afarensis which lived 3.9-2.9 million years ago) were discovered in 1974, and where anatomically modern humans are believed to have first emerged.
Africa has always had a special place in my heart, even though I had never been there before. As a member of the African Diaspora via the transatlantic slave trade of the 16-19th centuries Africa has always held a mythological status in my imagination and in my heart, so I came with a great sense of awe. With the release of Marvel's Black Panther, my sense of wonder only increased. After viewing the film about two weeks before my trip, the anticipation became unbearable.
I eventually made my way to Ngurdoto Mountain Lodge near the base of Mount Meru (the fifth tallest mountain in Africa, just a short drive west of Mount Kilimanjaro – the tallest) and came across the Conference on World Mission and Evangelism put on by the World Council of Churches, consisting of over a thousand people who all profess Jesus Christ to be their mutual Lord. There were people representing churches from the Solomon Islands, from Fiji, from India, from South Africa, from Jamaica, from the United States of America, from New Zealand, from Pakistan, from Congo, from Romania, from Norway, from the United Kingdom, and more; yet we were all called into the ministry of Jesus Christ. Upon thinking about this I couldn't help but recall the scene in God's throne room from the Book of Revelation:
After this I looked, and there before me was a great multitude that no one could count, from every nation, tribe, people and language, standing before the throne and before the Lamb. They were wearing white robes and were holding palm branches in their hands. (Rev. 7:9)
This image was especially present during the regular recitation of the Lord's Prayer in each person's native language through the days of the conference.
This conference gave me a deeper appreciation for the Church in Mission unit at the General Council Office of The United Church of Canada. Throughout the week I heard colleagues from different countries and continents excitedly sharing about the workshop they attended with Rev. Michael Blair, the Executive Minister responsible for that unit. I also had folks from around the world telling me that their denominations look to The United Church of Canada for guidance and consultation on issues of diversity (looking to Michael Blair and Adele Halliday and others). Hearing folks from around the world share their admiration for what The United Church of Canada is doing reminded me that we are part of a bigger picture and of how helpful it can be to hear the voices from other parts of the globe celebrate work in our church that we sometimes take for granted.
I also appreciated that at this conference young theologians offered keynote addresses alongside renowned scholars. One could hear the passion of Christ's Gospel from varying vantage points. From time to time I would just marvel that I was sitting in a conference of Christians from all around the world whose faith and calls to action deeply resonated with me. I felt I was among my people.
In the case of Adi Mariana Waqa, a young Indigenous woman from Fiji, we heard these words of power, encouraging the youth:
In this very conference I believe we define youth as up to mid-30s so I dare say Jesus would definitely be a "youth" here. And even if that was not the case, Jesus at the time he was walking this earth in Palestine would still have been far younger than the average age in many of our mainline churches today. Yet, as a young person on the margins, his agency has set the tone for God's mission in the last two millenniums! Can we please savour this moment! This moment when the church is reminded that our Redeemer and Saviour was my age when he proclaimed his manifesto in his hometown of Nazareth!!! (from "Becoming Disciples, Transforming the World," a keynote message to the Conference on World Mission and Evangelism by Adi Mariana Waqa)
We are now living in a time when young people in the USA are answering the call to public engagement after another school shooting, and so Waqa's words hold special significance for our time as the church, called to raise up the young to engage the public discourse.
 —Adam Kilner serves in ministry with Dunlop United Church in Sarnia, Ontario.