Celebrating love of the soil, of God, and of humanity with Mission & Service partners in Japan.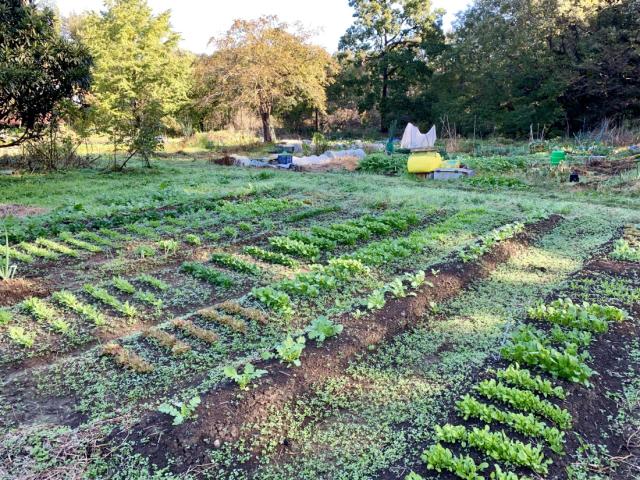 Credit: Julie Graham and Jennifer Janzen-Ball
Published On: May 20, 2020
In 2019, Jennifer Janzen-Ball and Julie Graham were invited to Japan by the Seminary for Rural Mission (Noden) in Japan, related to The United Church of Christ in Japan, a long-time global partner church. They met with representatives of various United Church partner organizations and shared their experience of designated lay ministry and  LGBTQIA+ and Two Spirit justice in the United Church. Rob and Keiko Witmer, retired United Church overseas personnel, hosted Julie and Jennifer. Rob Witmer is the current principal of the Seminary for Rural Mission. In this time of the COVID-19, Rob and Keiko's promotion of the three love philosophy - love of soil, love of God and love of humanity – seems ever more relevant and precious. 
Food is both highlight and struggle in any visit to a new-to-us place or culture – at least for us, your faithful bloggers. And food has particular meaning for this visit, because of the focus of the seminary's work.
Keiko and Rob's many years of ministry on the northern island of Hokkaido focused on the Three Love Movement: love of the soil, of God, and of humanity. Each element supports the others, and creates a holistic approach to being a contextual church grounded in community. In fact, Hokkaido churches support one another financially and show up to each others' events, allowing very small rural congregations to remain viable. We've admired this approach ever since we first heard it, and often wonder how the United Church could learn from this and practice it.
When Rob was asked to take on the principalship of the Theological Seminary for Rural Mission, Noden, its focus on rural ministry and the land was a natural fit. Not surprisingly, food and community are central to life at the seminary, from the locally sourced lunches in the cafeteria, to student wine and dinner potlucks, to the teas, ginkgo nuts, and fruit that are produced on the grounds and sold in the common area.
As with Canada, Japan's roots are rural, and land- and fishing-based. The rural population in Japan has dropped drastically in the past 70 or so years, and is now in single digit percentages. Farmers are aging, and, as in many parts of Canada, young people cannot afford to buy farm land.
Still, small (by Canadian standards) vegetable gardens are crammed into every available space, including the occasional rooftop greenhouse. 
We're staying at Keiko and Rob's home for most of the visit, in part because of Julie's severe allergies to fish and seafood, both of which are staples in almost every dish at almost every meal. It's been very frustrating to not be able to touch most traditional Japanese dishes when we're out; obento boxes are especially frustrating. They're beautiful and intriguing because of the enormous range of dishes packed artfully into a small space, and the beautiful presentation of these many dishes…. most of which contain fish or seafood (along with meats, egg, pickled vegetables, pickled plums, rice, fruit… mmmmmm).
However, Keiko-san is an amazing chef, and is spoiling us, her dish washers, with dish after dish, adapted to avoid fish and seafood. For Julie's birthday, she created beautiful vegetable makizushi (what we might call sushi rolls) and croquettes (mashed potato, carrot and onion and chicken, formed into a ball and fried).
In addition to the lovely flavours and very healthy food she and her small kitchen produce, we've marvelled at the beautiful presentation: a feast for the eyes, and a reminder of the many layers of relationships needed to create any meal; a reminder to pause, appreciate, and give thanks, which we do at every meal in the language of our choice. This is one small way of reflecting on the Three Loves.
North American influences have not been good to Japan's traditional diets. More meat, more processed flour, and more sweets are edging out dishes that use meat sparingly and include a wide range of local vegetables, tofu, fish, eggs, rice, and fruit. Keiko and Rob have been reflecting on this shift with us. (Even as we share in dessert….)
But local foods are still prized. Keiko and Rob are members of a cooperative that sources local, organic food from a range of prefectures that are all carefully identified, and delivers it to their house. We are very jealous. Friends of theirs have stopped by and dropped off Hokkaido rice, and boxes of persimmons, currently in season and absolutely delicious. And many people still share in a small plot of rice and enjoy its harvest. Rob casually mentioned that people can bring their home rice harvest to coin operated milling machines and choose the degree of polishing they want.
At our recent church meeting in Gunma Prefecture, the bazaar (mini fundraising sale of handicrafts, books, and other items) included local rice. The souvenir store at the nearby Takasaki train station included dozens of kinds of rice, local wheat udon noodles, local jams and honeys, and much, much more, each with their origins labelled.
All of this is resistance to over-processed, sourced from who-knows-where food. But overly busy, or poor, families may have little choice about what they can access or afford. Somehow there needs to be a meeting place between local food and affordable access to it.
Then we can give the traditional end of meal thank you we've been taught:
Gochiso-sama deshita: it was a feast!
You can read more about their incredible visit as Companions in Mission and the work of the partners they visited on their blog: Japan Partner Visit.
— Julie Graham and Jennifer Janzen-Ball. Julie Graham is a writer and adult educator who currently serves Living Skies Regional Council of the United Church of Canada as Minister for Education, community, and transition. She is also the former communications coordinator for Affirm United/ S'affirmer Ensemble. Jennifer Janzen-Ball is a program coordinator in the Office of Vocations in The United Church General Council Office and is also the former director of the Designated Lay Ministry Program at St. Andrew's College and the Doctor of Ministry program at the Saskatoon Theological Union. 
If this has piqued your interest in People in Partnership opportunities, please read more on our webpage or email us at pip@united-church.ca.