The UN International Decade for People of African Descent extends the opportunity to focus on Black history.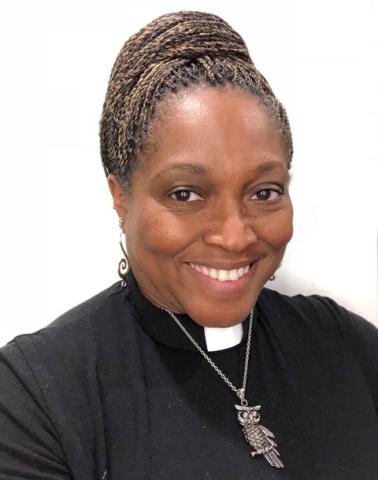 Rev. Dr. Karen Georgia A. Thompson
Credit: Courtesy of Karen Georgia A. Thompson
Published On: February 1, 2020
This blog post by Rev. Dr. Karen Georgia A. Thompson of the United Church of Christ is part of a series of reflections for Black History Month 2020.
I am very partial to the month of February, it is my birth month and Black History Month. I would like to think that my birthday is reason for month long celebration, yet even I cannot comprehend celebrating myself for 28 (or 29 during a leap year) days each year. Black History Month is another matter. In this case, it often seems that the 28 days each year to focus on the history of African descendant people and their contributions to societies both in North America and globally is just not enough. Twenty-eight days, gives us 28 people to highlight, 28 events of importance to name, and perhaps multiple speaking engagements to name the positive and negative of the Black experience. Invitations are sent with intention of filling pulpits with guest speakers and workshops are prepared to speak to the need for change — for the rights of African descendant people to be seen as equal and valuable as those of dominant culture.
In past months, my social media feed has pointed to what appears to be an escalation of articles about anti-Black racism, White privilege, and incidents of racial discrimination that call for action. Many do not make the major media outlets, and are instead blogs, viral posts, and come from lesser known media outlets. With each post, there are the accompanying comments that include the concern of those who want to see justice and a world where equality is indeed present for all. As I read these posts, I cannot help but wonder what it will take to bring about the changes that will affect attitudes and reduce the stereotypes that negate the lives of African descendant people globally. In addition to the concerns of the masses, social media also provides exposure to the negative thoughts and comments that we would prefer to see eliminated and eradicated.
The focus of Black History Month offers the opportunity to raise awareness about the myriad of issues facing African descendant people. The racial injustices that are present are not isolated to any hemisphere or country. The stories of hatred, discrimination, inequality in access to housing, education, and employment point to systemic issues that need to be addressed. How is it possible that millions of people are discriminated against because of the color of their skin? How can change come for people of African descent if education and awareness are primary tools, and that focus is relegated to one month per year at a time when growing nationalism heightens fears and prejudice?
The work of dismantling racism will take years. Laws and policies need to be changed. Policy makers need to be invested in owning that the history of racism is lodged in a glorification of whiteness that seeks to place one group of people over others. The quest for equality is one that calls from across the globe and also beckons the church to find a place in the process of working for change.
The United Nations notes that there are over 200 million people who self-identify as being of African descent living in the Americas. These 200 million people who are primarily descendants of enslaved people brought into the Americas are further identified as a group whose rights must be "promoted and protected". The UN declared 2015-2024 as the International Decade for People of African Descent. The decade is envisioned as a time for focusing on recognition, justice and development as a means of raising awareness and bringing about change.
The 10-year commitment is a drop in the bucket and yet is a lengthy commitment. Half way into the decade, many are still unaware of this opportunity to join the global community in raising awareness, providing educational opportunities, and engaging in advocacy to bring about legislative change that will improve the lives of Black children, men, and women in our communities.
As we enter the sixth year of this decade, what would it mean to utilize this time as five years of Black History Month? 59 months in five years, rather than five Februarys for preaching, teaching, and focusing on a crisis in our midst. How could this focused five-year effort and this decade be a catalyst for the change that we envision?
— Rev. Dr. Karen Georgia A. Thompson, Associate General Minister for Wider Church Ministries and Operations and Co-Executive for Global Ministries, United Church of Christ