More than 100 years ago, Methodist missionaries began visiting China. A unique photo exhibit captures their lasting impact on that country.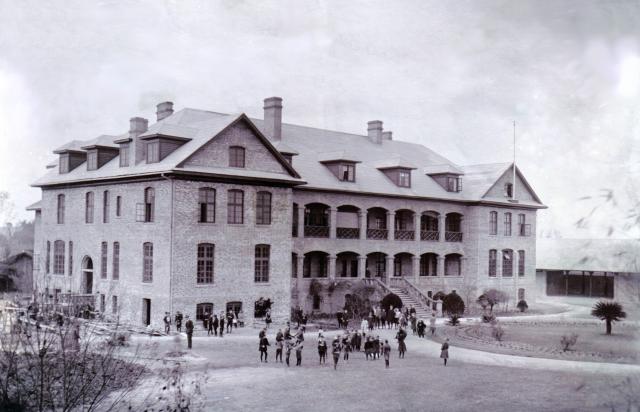 The Canadian School in West China, in the early 1900s.
Credit: Courtesy of the Canadian School in West China, http://cschengdu.ca.
Published On: October 13, 2016
The important work of Canadian missionaries in China in the years from 1892 to 1950 comes alive through hundreds of historical photos in the Canadians in China: Old Photos from Sichuan exhibit at the Chinese Cultural Centre of Greater Toronto, from Oct. 14 to 18.
The exhibit is in conjunction with The Canadian School Association, a group made up of those who attended The Canadian School in West China from 1909 to 1950. Although the school closed almost 70 years ago, executive member Marion Walker says members still get together annually for reunions.
Most of missionaries sent to China were Methodist, one of the founding denominations for The United Church of Canada. Walker says they made "a lasting impression in medical, dental, educational and evangelical history in China."
She knows that firsthand, as she was born in Chengdu, China, in 1932, in a house beside the school. Her father was a Methodist missionary and principal of the school that educated children of missionaries. Her mother, also a missionary, taught English literature there. Two of her grandparents, both missionaries, were major influences in bringing Western medicine to China, and they helped found the first hospital there for Women and Children.
Methodist missionaries helped to establish the West China Union University in Chengdu, she says, and its graduates contributed to the development of China's modern health-care system. "This story shines a light on an important part of the history of Canada-China relations," she says. "It celebrates a long friendship between our two peoples, enduring for over four generations."
When asked why Canadians would want to work as missionaries in rural China, Walker notes that Methodist theology urges followers to spread the word about Christ to others. In the late 1800s, "it seemed that many young people wanted to go to faraway places, and talk of God's good works."
The Canadians in China: Old Photos from Sichuan exhibit consists of 52 banners or panels each showing vintage photos of missionaries who lived in China between 1892 and 1950. Walker urges United Church members to attend the five-day exhibit.
"It was this church that sent the missionaries to China in the first place. You can be proud of the accomplishments they achieved there."
Walker adds that the exhibit is a gift to Canadians from Chinese historians, artists, and corporate donors who created the "Old China Photo Project, which focuses on Canadians who made Sichuan their home over 100 years ago. "These missionaries contributed to medical and educational modernization in China, leaving a lasting footprint and a long legacy of friendship in a faraway land," she says.
The United Church no longer has missionaries in China, but church leaders went on a 10-day visit to the Asian nation in 2015. "The visit also recognizes the long history of United Church engagement with the people of China," wrote Moderator Jordan Cantwell, "and the vision of unity in diversity among Christians for the sake of God's mission in the world."
The Chinese Cultural Centre of Greater Toronto is at 5183 Sheppard Avenue East, Toronto. For information, call 416-292-9293.
 – Paul Russell is Communications Coordinator with the Office of the Moderator and General Secretary.