Serving in a country that doesn't celebrate the holiday, overseas personnel Kelsi James discovers the Christmas spirit lives in friends.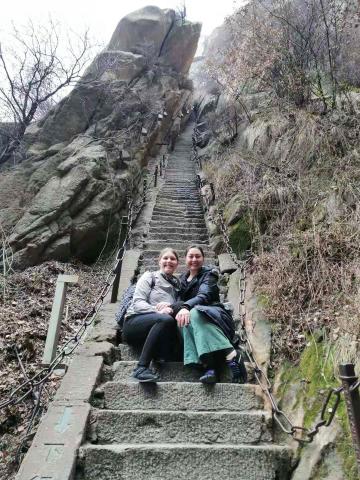 Credit: Courtesy of Kelsi James
Published On: December 20, 2019
It is less than a week until Christmas, and I am learning to live with its absence here. China does not celebrate Christmas, and my students' only knowledge comes from American holiday movies (today, a student asked me, "Teacher, do you know the creepy old man who gives presents?").
There are no Christmas lights, or Christmas carollers, or Christmas cookies. There are no Santa Clauses holding court at shopping malls.
Of course, Christmas is so much more than these things. But, it suddenly becomes apparent to me that part of the magic of Christmas is found in the beautiful way it is sewn into our Canadian culture, and into each one of us who chooses to celebrate it.
And so, here in China, both Lea, my epic roommate/friend from Germany, and I take our two little sparks of Christmas spirit, and start to build our own, independent China-centred holiday season.
At first, Christmas spirit is:
Us making each other little Advent calendars (we sneakily buy secret snacks and little gifts, and wrap them in tissue paper, and shyly offer each other something new everyday).
Lea teaching me about Nikolaus Tag, and me creeping into our living room in the middle of the night to fill her shoes with sweets.
Putting a countdown on our wall, and blasting Christmas tunes, and exchanging Christmas traditions and stories and prayers.
But, as we come together to share and prepare and enjoy all these little actions and activities together, something else happens. The Universe puts its arms around us, and as Lea and I spend our days leaning on each other, and sharing, and laughing, and eating sweets, and wrapping gifts, our hearts reach for each other.
In this month of Advent, we unexpectedly get some time off, and, impromptu, plan a trip to Xian and Huashan – leaving the next day. We problem-solve, and hammer out the details late into the night, throwing clothes and towels and snacks into backpacks, all while laughing and telling stories, and singing along to Christmas songs. Upon arrival, we jam pack our days, take pictures of each other, and share many memorable and joyful meals (homemade noodles! Fried potatoes with spun sugar! Thick chive and salt bread!). We giggle to each other in our hostel bunkbeds, and sing along to Mamma Mia! in a little small town inn with sketchy heating. We climb a mountain that is so breathtakingly beautiful that we have to hold on to each other, because the utter joy and speechless amazement is simply too much for one human to bear on their own.
The Universe gently massages our shoulders, and brushes back our hair, and as Lea and I grip each other on top of the world, looking down through the clouds, I think:
Hope.
Peace.
Love.
Joy.
Here, on this mountain, with this human, and the whole world around us:
Christmas spirit, in abundance.
We take the train back to Lanzhou, and in the cab, I look out the window. There are no Christmas lights, no Christmas decorations or carollers or bells or bakeries with windows displays of Christmas cookies. I can see that Christmas doesn't live here.
But I turn and look at the exquisite and loving human sitting beside me, with whom I am learning and growing and travelling the world,
And all I can see is Christmas, everywhere.
Hope. Peace. Love. Joy.
– Kelsi James is United Church of Canada Overseas Personnel, currently serving as an English teacher in Lanzhou, China.