Thank you so very much for your compassion.
Primary Media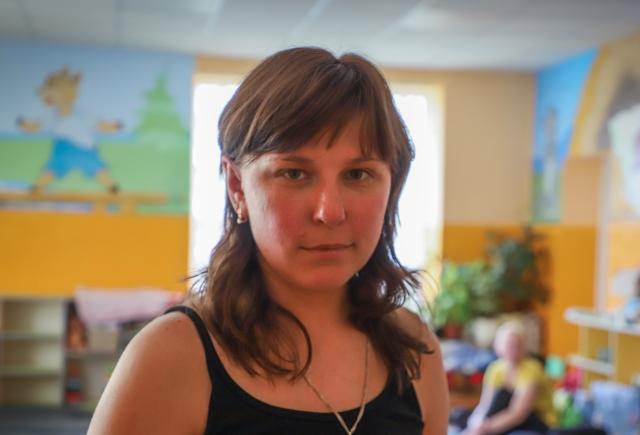 Irina in a refugee shelter
Credit: Fekete Dániel/Hungarian Interchurch Aid
Published On: May 13, 2022
Body
The latest stats released by the United Nations are mind-boggling: More than 12 million people are believed to have fled their homes in Ukraine since the invasion began. Over 5.7 million have left for neighbouring countries, and another 6.5 million people are thought to be displaced inside the war-torn country itself.*
Irina, a trained nurse, is one of these millions of people whose family has been torn apart by war. Her husband, a history teacher, joined the territorial defence in the first days of the occupation. In the beginning, Irina and her five- and eight-year-old children moved in with her parents; because the home didn't have a basement, they rearranged sofas and furniture to create safe shelter. When a bomb exploded in the neighbourhood, Irina had a tough decision to make. Her parents did not want to leave their beloved home, but as a mother she felt she needed to get her children to safety.
After a lot of agonizing soul-searching, Irina parted with her parents and started walking with her children toward the evacuation point. They were forced to take cover as shelling grew near. Eventually, the family was able to catch a train to western Lviv―a 20-hour journey―and then endured another exhausting 5-hour train ride to Batiovo, Transcarpathia.
In Batiovo they were welcomed into one of 120 refugee centres and shelters. Through bilateral partnership with Hungarian Interchurch Aid held in relationship by ACT Alliance, your generous gifts are helping to provide these centres and shelters with food, water, hygiene products, and household appliances.
There, thousands of people like Irina and her children have found shelter and warm meals, and volunteers are doing what they can to offer support and help keep spirits up. For now the family isn't crossing the border; Irina's husband, sister, and parents are in Ukraine and Irina doesn't want to leave them farther behind. She recognizes this might not be an option in the future.
In an unimaginably difficult time, your gifts are not only helping to provide necessities, they are also showing the people of Ukraine you care. Thank you so very much for your compassion. Please continue to hold Irina and the people of Ukraine in your prayers.
*BBC News, How many Ukrainians have fled their homes and where have they gone?