"I feel as if I am in a big prison."
Primary Media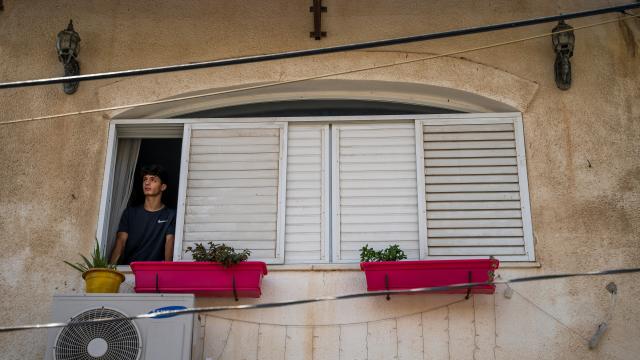 Khalil, shown here, was taken from his home and detained by Israeli police.
Credit: DCIP/Ahmad Alsharif
Published On: April 19, 2022
Body
Can you imagine military breaking into your home in the middle of the night, arresting and detaining your child, and then taking them away to be interrogated? This happens nightly in Palestine.
It happened to Khalil, a teenager who lives in the Sheikh Jarrah neighbourhood of occupied East Jerusalem. Last June, Khalil was simply standing with his mother outside their home when he says he was attacked and assaulted by Israeli police passing by and then detained for two days before being released on bail and placed on house arrest. Even though house arrest has been lifted, he lives in constant fear.
"When I go to school, I'm constantly worried about my family…. When I pass through the checkpoints at the entrances to the neighbourhood, whether on my way to school or on my return, I feel as if I am in a big prison," he says in a brave photo essay he shares about his experience.
Khalil's essay was just released by Defence for Children International (DCIP). Your generosity through Mission & Service supports this advocacy organization in defending children's rights by offering free legal aid, documenting violations of international law, and advocating for greater protections. Although Israel ratified the United Nations Convention on the Rights of the Child in 1991, DCIP says that Palestinian children like Khalil continue to be systematically denied protections. Last year, 78 children were killed as a result of Israeli military and settler presence in the Occupied Palestinian Territory.*
On May 5‒8, 2022, the United Network for Justice and Peace in Palestine and Israel is hosting a conference in London, Ontario. Called Responding to a Cry for Hope, the event will be largely led by Palestinian speakers sharing their own experiences. Thursday evening will focus on the Israeli military treatment of Palestinian children. The Rev. Marianna Harris, a United Church minister, is one of the organizers of the event. "I have been involved in this work since 2002 when I heard what was going on in Palestine, and it completely shocked me. Since then, I've been to Palestine three times. I have friends there. What's happening just isn't right."
Harris encourages Mission & Service supporters to take the next step and connect with UNJPPI. "I would encourage people to learn more about what is happening and what we are doing by visiting unjppi.org," she says. "Join Canadians who are standing up for the rights of Palestinians. The hurting has to stop. I believe good can happen, and we are called to help make it happen. We are called."
*DCI-Palestine, Distribution of Palestinian Child Fatalities by Month.
Downloads