"The grinding equipment helped me increase my income by 40 percent."
Primary Media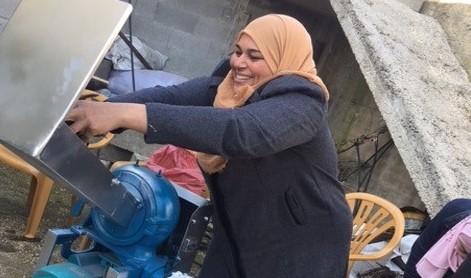 Leila presses carob paste thanks to new grinding equipment provided by Mission & Service partner the Department of Service to Palestinian Refugees.
Credit: DSPR
Published On: October 21, 2021
Body
One thing we can do to promote peace is share what we have. Your generosity through Mission & Service supports economic development programs that offer micro-loans, business training, and support to purchase equipment. One place your donations matter is in Palestine.
Palestinians' freedom of movement in the West Bank is restricted by physical barriers like the Separation Wall, checkpoints, and roadblocks, and bureaucratic ones like permits and closure of areas. The Israeli occupation has confiscated more than 100,000 hectares of land from Palestinian farmers to build illegal settlements, bypass roads, and the Separation Wall. Checkpoints, roadblocks, and crop destruction create challenges for farmers attempting to reach their land and their markets.
Leila Basheer is a 46-year-old mother of five who lives in a village in the West Bank in Palestine. Her husband is in poor health. Since she was a child, Leila has been preserving carob paste, which helps with upset stomach. Four years ago, as her family struggled, she decided to sell her carob paste. But processing it by hand is labour-intensive, so she turned to the Department of Service to Palestinian Refugees for help. The Department is supported by your Mission & Service donations.
"As I made some profit from local sales, I decided to expand. DSPR helped me buy grinding equipment that made making the paste much easier," she says.
"The grinding equipment helped me increase my income by 40 percent. I look forward to buying a second grinding machine, this time to produce tomato paste," says Leila.
Every step we take to support families like Leila's brings us a step closer to peace and justice. Thank you for your generosity through Mission & Service.