"The grinding equipment helped me increase my income by 40 percent."
Primary Media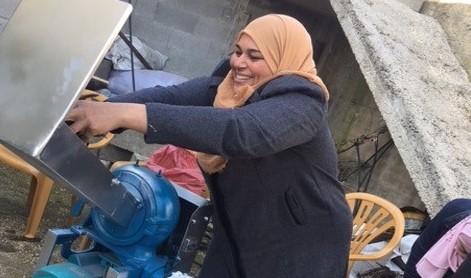 Leila presses carob paste thanks to new grinding equipment provided by Mission & Service partner the Department of Service to Palestinian Refugees.
Credit: DSPR
Published On: October 21, 2021
Body
One of the things we can do to promote peace is share what we have to ensure that everyone has enough. That's why your generosity through Mission & Service supports economic development programs that offer things like micro-loans and business training and support to purchase equipment.
Leila Basheer is a 46-year-old mother of five who lives in a village in the northwestern part of the West Bank in Palestine. Leila's husband is in poor health, which makes it hard to get by. Since she was a child, Leila has been preserving carob paste, which helps with upset stomach. Four years ago, as her family struggled, she had the idea to sell her carob paste. But processing it by hand is labour-intensive so she turned to DSPR―the Department of Service to Palestinian Refugees―for help.
"As I made some profit from local sales, I decided to expand. DSPR helped me out with buying grinding equipment that facilitated making carob paste enormously," she says.
The outcome is amazing. Not only can Leila produce high-quality paste but her income has also grown. "The grinding equipment helped me increase my income by 40 percent. I look forward to buying a second grinding machine, this time to produce tomato paste," says Leila.
Palestinians in the West Bank are subject to complex systems of control. These systems of control include physical barriers like the Separation Wall, checkpoints, and roadblocks, and bureaucratic ones like permits and closure of areas. These restrict Palestinians' right to freedom of movement. The Israeli occupation has confiscated thousands of dunums (1 dunum = 1,000 square metres) of land from Palestinian farmers to build illegal settlements, bypass roads, and build the Separation Wall. Moreover, the checkpoints, roadblocks, and crop destruction create extreme challenges for farmers attempting to reach their land and their markets.
Every step we take to support families like Leila's brings us a step closer to peace and justice. Thank you for your generosity through Mission & Service.
Downloads