Saidath's goal is to develop more cooperatives in the community.
Primary Media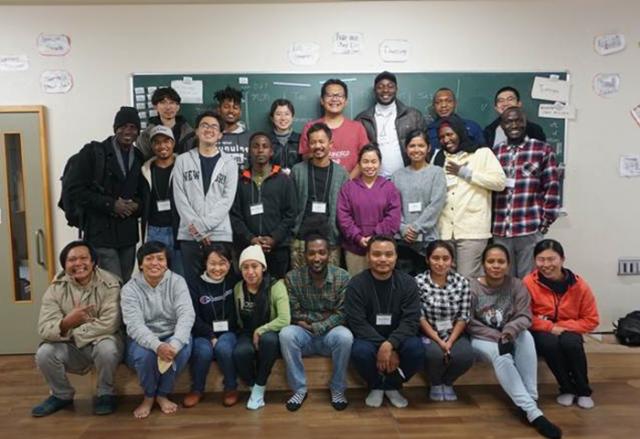 Saidath Murorunkwere (middle row, second from the right ) is pictured here with classmates.
Credit: Asian Rural Institute
Published On: June 13, 2022
Body
Each year, the Asian Rural Institute (ARI), supported through your Mission & Service gifts, invites 25‒30 grassroots rural leaders from Asia, Africa, and Latin America to learn sustainable agriculture techniques at their Rural Leaders Training Centre in Tochigi, Japan.
Saidath Murorunkwere is one of ARI's most recent graduates.
Like many other Rwandans, the genocide of 1994 left scars in her life. In just 100 days between April and July, an estimated 800,000 to 1,000,000 Rwandans were killed, the majority of whom were Tutsis.
"Of Saidath's extended family of nearly 200, only two aunts and a few of her siblings survived. When the Rwanda Patriotic Front forces finally stopped the genocide, Saidath, her mother, and her remaining siblings had to start over with absolutely nothing. Everything was either burned or stolen, including their 42 cows and other livestock," ARI reports.
To make ends meet through the following years, her mother sold charcoal and Saidath worked as a bus driver's assistant, opening doors for passengers and collecting fees. Many days they went without eating. Still, Saidath was determined to finish secondary school. She became a secretary and eventually studied at the University of Rwanda, where she graduated with a degree in journalism.
Despite her education, the pay was low so she began to work as a farmer and a social worker with Dufatanye, a non-governmental organization that works to fight HIV/AIDS, malnutrition, and poverty while promoting organic agricultural practices. In that role, Saidath worked with 60 farming families to build kitchen gardens.
Inspired to make an even bigger difference, she applied to ARI. "Nearly 40 percent of the population in my area lives in poverty. Small-scale farming is the major occupation, and I wanted to learn techniques and skills from ARI that I could share."
Whether it be environmental conservation, providing education, initiating microfinance programs, attaining rights for women and children, or organizing aid for refugees, each student of ARI graduates with the intention to make a positive difference.
Saidath's goal is to develop more cooperatives in the community where she can pass on the skills she has learned. "With better nutrition, health will improve and children can go to school," she says.
Thank you for supporting programs like ARI that inspire extraordinary community leaders like Saidath to make a difference. Your generosity truly does matter.
Downloads