Mission & Service partner, ACT Alliance, works on the ground with member organizations to provide much needed aid to those fleeing the war in Ukraine.
Primary Media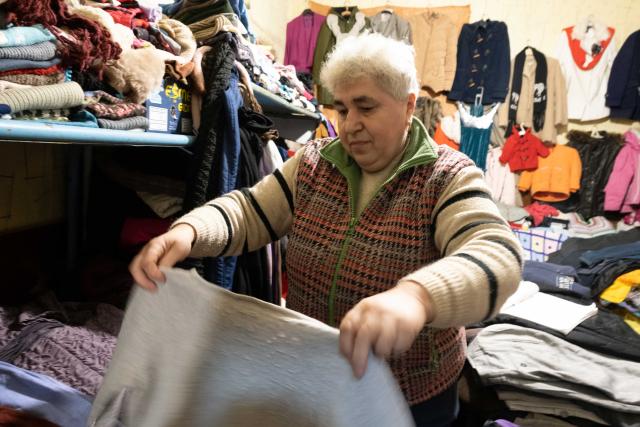 Valentina helps sort donated clothes for refugee families to choose from at the CWS distribution centre in Balti, Moldova.
Credit: Simon Chambers/ACT
Published On: February 27, 2023
Body
To mark the first anniversary of the war in Ukraine, United Church of Canada Mission & Service partner ACT Alliance has shared this update on their work in region, providing aid and assisting those fleeing the war. Your generosity through Mission & Service has long supported ACT's humanitarian relief and advocacy efforts. You can still give and support this important work.
Budolai is an energetic NGO leader in Balti, Moldova. He is also a person with a strong faith. His organization, Healthy Cities, was created several years ago to help the most vulnerable people in the city: homeless, addicts, people with disabilities. Last year, when Russia invaded Ukraine, and refugees began to cross the border into Moldova in great numbers, he saw a need to reach out to this new group of people in need.
"I wanted to help because it is the right thing to do," he says. "This is part of practicing our faith. Faith without action is dead. If you see a person in need and you just close your eyes, that is wrong. The Church should be an answer to people's needs."
And Budolai and Healthy Cities began to meet those needs.
"We began by helping with transport from the border. I would be there for weeks at a time, and my wife Katya supported me in this," he recalls.
"We looked around to see where the greatest needs were, and it was very clear that while there was lots of help in Chisinau, there was no support for refugees in Balti. The mayor was asking for help. So it was an easy decision to work here.
"Our distribution centre is near the mayor's office, and the UNHCR cash distribution centre, which makes it the perfect location for in-kind support."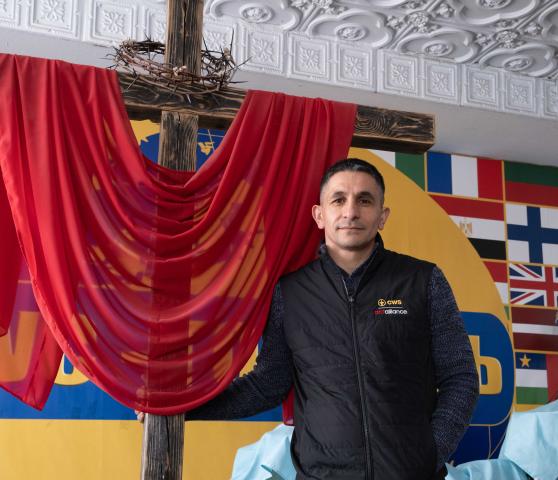 Budolai is the head of Healthy Cities, a local NGO partner of ACT member CWS in Balti, Moldova that added support of Ukrainian refugees to its portfolio of caring for the most vulnerable people in Balti.
Credit: Simon Chambers/ACT
Healthy Cities works with ACT member Church World Service to provide all kinds of services that the refugee families need. From food to hygiene items to diapers to clothing and bedding, they have it all.
"We don't give packages of specific items to the refugees," Budolai says. "It is better for them to come and choose the items that they need. We have carbohydrates, vegetables, proteins, meats, beans, cooking oil, dairy products, jam, dumplings. They take what they need and what they like to eat. This is important so they have their dignity."
The other areas of their work are centred on the needs and dignity of the refugees as well. They offer Romanian classes, child care, psychosocial support, legal help, youth engagement, arts and crafts, and livelihood skills trainings.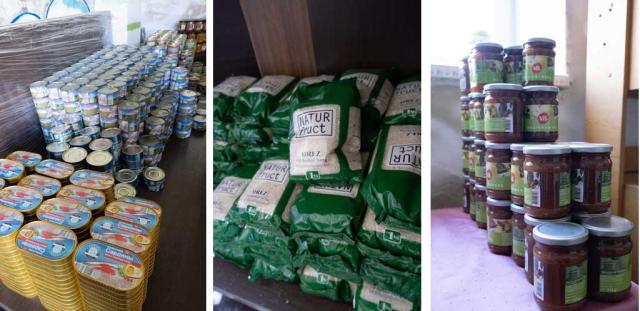 ACT member CWS' local partner in Balti, Moldova provides a "shopping" experience for refugees who can choose the food, clothes, baby suppplies and even toys that they want and need from the distribution centre.
Credit: Simon Chambers/ACT
"Learning Romanian helps the refugees to integrate into Moldovan society," he says. "And this is an important part of protection for them. When you speak the language, you meet people, you get to know the community and they know you. You know who to talk to when there are problems."
Healthy Cities helps about 1500 families every week with their programmes. And this can be hard for their staff and volunteers, so they are also paying attention to supporting their team, many of whom are themselves Ukrainian refugees.
"We held a session for our staff on how to avoid burn out, and we had another workshop for our female staff to help them talk about issues they may be facing," Budolai says.
And it is easy to see how they could be facing burn out as they support not only refugees in Balti, but also in many northern Moldovan communities. "We get orders from the north, from mayors there, who use Google forms, WhatsApp, Viber, or other ways to let us know what people need," says Katya, Budolai's wife, who handles all the orders from outside Balti.
"Here we have supplies for one order that is supporting 98 families, 190 people," she says, pointing to a large pile of boxes and bins full of various foods. "Some days this room is full to the ceiling with supplies, then the next day they are all gone to the north."
Even as they have massively increased their work supporting Ukrainian refugees, Healthy Cities continues to fulfill their original mission, to support vulnerable Moldovans. Budolai's faith drives him to do everything he can to support people in need, no matter who they are or where they are from. "Sometimes," he says, "we don't have the resources to help. One time, I gave a man all the money from my own pocket, because it was all I could do."
Budolai and Katya truly put their faith in action, and are making a tremendous difference in the lives of thousands of Ukrainians and Moldovans through their work.