"It is an exciting and challenging time to be part of the church… I rejoice for all the various ways that the United Church is wrestling with what it means to be church in this time."
Primary Media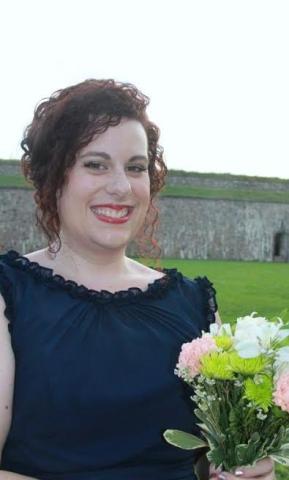 Published On: December 10, 2015
Body
Where: Sarnia, Ontario
Current ministry: Congregational, St. Luke's United Church
Years in ministry: 3 years
How and when did you know you were called to ministry?
As a minister's kid, church was part of everyday life growing up. I can't pinpoint an exact age when I first felt the call, but I did have a sense of knowing throughout my childhood that church was a place where I felt fulfilled and whole. It was a place of family, nurture, and care. But then, because I am a minister's kid, I really pushed back against the idea of "following" in my mom's footsteps. So I tried to bargain with God, suggesting that maybe if I wrote for the United Church's Observer magazine, that would be a good alternative to becoming a minister. Well, obviously, you can see who won that round of bargaining. I finally embraced my call and entered discernment the final year of my undergraduate degree. It marked the start of a wonderful time of wrestling, discerning, and learning.
Why did you pursue ministry in The United Church of Canada?
I have always been proud to be part of a church that embraces diversity, and values holding space for wonderings, questions, and exploration. It is the home that nurtured my faith through childhood and it is the place that sustained me during my adolescence. I love our church's history of social justice and our strivings to seek right relationship. I am proud to be part of a denomination that seeks to bear witness to the gospel through word, deed, and action. I can't imagine being anywhere else.
What has been the greatest part of entering ministry?
I think the blessings that come from being invited into the divine and sacred moments in people's lives. It is an honour to walk with people in their moments of joy and pain. Baptisms, weddings, funerals, the everyday craziness; all are amazing opportunities to be asked to share in. To be witness to and be a part of community forming is a profound gift. It isn't always easy, but it is always a blessing.
What has been your biggest challenge in ministry?
Personally, I think my biggest challenge is maintaining a balance of self-care. As an extrovert, I get charged up by being with people, by chances to be creatively part of the Spirit's workings. Which means that sometimes saying no is tough for me. There is always more you can do, more to be involved with, more people to connect with. An important learning for me has been around making sure I take time for self-care. To go for a run, do yoga, or simply unplug and enjoy some Netflix is not only important, but crucial. If we don't take time to recharge and intentionally hold Sabbath, we will all burn out. I have learned that the work of the church is never done and killing myself trying to say yes to everything is a poor way to answer the call of ministry.
If someone said they wanted to be a minister, what would you tell them?
Hallelujah! Welcome to the best colleague group ever! But more seriously, I would encourage them to prayerfully consider it. To find out what ministry looks like beyond their own congregation (because it can be radically different even at the next church over, and you will probably be called to serve in places radically different from where you began). I would hope for them that they would find spiritual practices to sustain them. I would pray they would find their "tribe," the people who will walk with them in their journey, who will speak truth loving and have their back when the going gets tough. Ministry is not a job, but a vocation that requires your whole self and offers many blessings even as it can be challenging. Be bold, have fun, and God bless!
Any other comments about your ministry and vocation?
I consider myself lucky every day. I really do feel blessed to be called to this crazy thing called congregational ministry. It is an exciting and challenging time to be part of the church. I am thankful for amazing colleagues that are in this journey with me. I am thankful for the congregations that I have served. I rejoice for all the various ways that the United Church is wrestling with what it means to be church in this time. I can't imagine being anywhere else!