"The opportunity to share with people in various spheres of life has been the greatest part of ministry."
Primary Media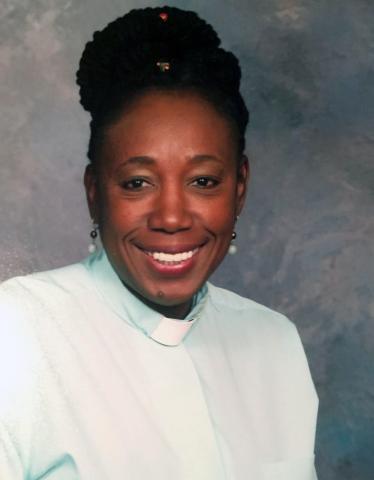 Published On: May 15, 2017
Body
Where: Thunder Bay, ON
Current Ministry: Congregational
Years in Ministry: 24 years
How and when did you know you were called to ministry?
I recognized I was called to ministry as I participated in the youth ministry in my home congregation, while I was a teenager. The diaconal minister who led that area of the work got us involved in activities that allowed us to experience the church at work in the world. My interactions with people who would have been challenged to have any other contact with the church made an indelible impression on me. As this was combined with programs that promoted my own spiritual growth, along with being placed in various leadership positions, I acknowledged that God was calling me to diaconal ministry.
Why did you pursue ministry in The United Church of Canada?
I offered for ministry in the Methodist Church in the Caribbean and the Americas, as I am a Caribbean woman. After being trained, I was sent to Belize where I ministered for 4 years, then to Barbados, where I ministered for 16 years. Four years ago I moved to Canada, and began ministry with The United Church of Canada, through the Admissions process.
What has been the greatest part of entering ministry?
The opportunity to share with people in various spheres of life has been the greatest part of ministry. As a diaconal minister I have been in pastoral assignments, a teacher in the secondary school system, a chaplain in the armed forces, and worked as program staff with the community social services. All of these placements enabled me to interact with people and to effect real change, undergirded by the love of Christ. I've also loved being able to experience so many different countries and cultures!
What has been your biggest challenge in ministry?
My biggest challenge was always in the first stages of a new assignment—seeking to establish situations of trust in completely new environments.
If someone said they wanted to be a minister, what would you tell them?
Test your call. Make sure this is where God is leading you, through the discernment process that is available, and then go for it! It is a vocation that affords wonderful opportunities for interaction with people, and the fulfillment derived is indescribable!
Any other comments about your ministry and vocation?
I have experienced many interesting situations, in geographically different places, over the period that I have been a minister. Some of these were challenging, others were revealing, some educational, and others distinctly unpleasant. Through it all, however, I have affirmed again and again, I am not alone. People have walked with me on different phases of this journey. God has been revealed through so many facets of this journey. We are not alone.