"The greatest part of ministry is the people with whom I celebrate and lament."
Primary Media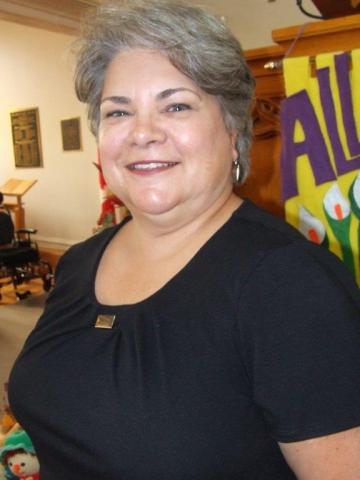 Published On: December 10, 2015
Body
Where: Petrolia, Ontario
Current ministry: Congregational
Years in ministry: 12
How and when did you know you were called to ministry?
I knew there was a "call" long before I admitted it! As my life partner was completing his M.Div. I began to have an inkling that maybe I was supposed to go this route, too! However, there was something about the fit of ordained ministry that didn't feel quite right. When I became aware of diaconal ministry through the short little paragraph in a Discernment Committee Handbook, a spark went off and I knew this was my calling. All in all it took several years before I said, "Oh, OK, God. Here I am!"
Why did you pursue ministry in The United Church of Canada?
I was raised in the United Church, but in my teens felt the church wasn't relevant! Many years later, the man who would become my life partner invited me to join him at Sunday worship. I wasn't particularly crazy about the idea, but hey, I was in love so I went. I was so amazed by the changes in music, theology, and fellowship that I knew I was home! The United Church has taken some strong stances that have both challenged and supported my identity as Christian. I could not be in ministry within any other denomination.
What has been the greatest part of entering ministry?
The questioning people! And the ones who are struggling to understand the questioning! Without any doubt the greatest part of ministry is the people with whom I celebrate and lament, the people with whom I sing and pray. It is very true that the church is the people, both those who gather regularly for worship and those who seek us out at significant life events. The children, the young adults, the middle-aged, and the elders: they are the church and they have been and are the greatest gifts to me.
What has been your biggest challenge in ministry?
Ministry is isolating. There is no getting around that truth. Although we are constantly in the company of people, it is not always easy to have deep friendships with folks who can understand the 24/7 nature of the vocation or the reality that we are really quite ordinary people who need time to play like everyone else! Ministry is also painful. The church has conflict, some of it very deeply ingrained, and it is difficult to deal with—especially when folks are more comfortable burying it than digging it out!
If someone said they wanted to be a minister, what would you tell them?
Ministry takes immense quantities of energy—physical, psychic, emotional, and spiritual—yet is energizing and illuminating. There is something about journeying with people through their many life experiences that has enlivened my own. At times ministry is all consuming; one needs to be intentional about self-care!
Any other comments about your ministry and vocation?
I have come to understand that work I was involved with prior to ministry was, actually, ministering to God's people! However, being prophet, servant, guide, accompanier, and at times priest is a vocation that tests and affirms me at the very core of my being. I can't imagine doing anything else!