"If you're in it to make a difference, make sure you believe in the resurrection…. The church…requires ministers of great courage."
Primary Media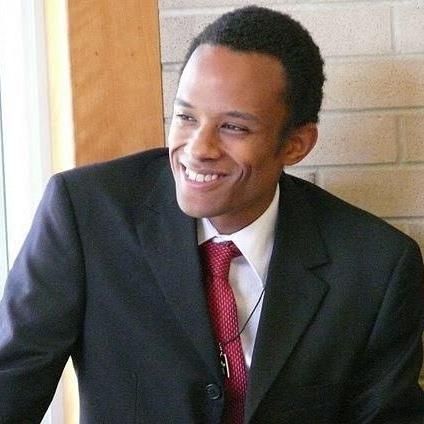 Published On: December 10, 2015
Body
Where: Sarnia, Ontario
Current ministry: Congregational
Years in ministry: 4
How and when did you know you were called to ministry?
I knew I was called to ministry when the minister of my home church, Grace United in Sarnia, called me up and said, "The Congregational Care and Growth Committee has met and think you ought to go into ministry." I had had a handful of mystical experiences and an ongoing relationship with my church. I had been toying with the idea of going into ministry in the back of my mind since I was confirmed in 1999, but simply left it there until it was bluntly stated that another person thought I should.
Why did you pursue ministry in The United Church of Canada?
I decided to pursue ministry for a number of reasons.
As an infant I was fostered by the Rev. Adam Vinson (a Black Baptist minister) and his wife Erma (Erma fostered over 200 children in the Windsor-Detroit area over 50 years). When I was adopted into the Kilner family, I was renamed "Adam" after my foster father.
My church actually cared about me during the most difficult moments of my life.
I was taken seriously as a child in the church.
What has been the greatest part of entering ministry?
The greatest part of ministry for me is being able to do, in one position, a wide variety of things I love. I love Black history—I am given space to do research on that stuff. I love music; I am given space to lead some music here and there. I am given space to do sermon series on popular movies and popular music. Being a video game guru, sometimes I use video games and iPad apps to demonstrate what I'm trying to say in a sermon. I am invited into some of the most challenging and some of the happiest parts of people's lives—the most meaningful moments. This is powerful stuff.
What has been your biggest challenge in ministry?
Presbytery. The meetings are ones that many either avoid or disengage from. Many of us know there are serious problems here, but nobody is willing to talk about what we can do to solve the problem that few, if any, even want to be at the meetings. I got into ministry so that I could make a difference in people's lives—I cannot recall ever feeling like the work we were doing at presbytery was making a difference to anyone; in most cases it feels like it repels people. I'm willing to do my part in preparing presbytery for the 21st century if others are willing to be courageous.
If someone said they wanted to be a minister, what would you tell them?
If you're in it to make a difference, make sure you believe in the resurrection. It is a beautiful calling, but the state the church is in requires ministers of great courage.
Any other comments about your ministry and vocation?
Hope is alive. God is great. The Holy Spirit has been poured out on all flesh, and people all over continue to prophesy. We live in the most interesting age in which to be a person of faith.