Primary Media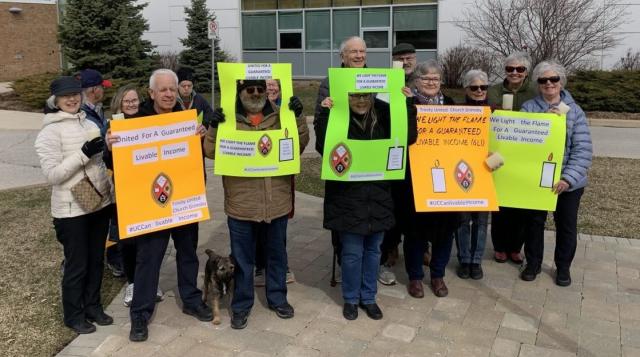 Credit: Trinity United Church, Grimsby
Published On: April 6, 2023
Body
On March 24‒26, United Church guaranteed livable income supporters held actions and vigils across the country. Here's a quick cross-country update. You can connect with the GLI Network by contacting   or visiting the GLI webpage for more information.
North Vancouver
The group at federal Minister of Natural Resources Jonathan Wilkinson's office was led by Judith Hardcastle and St. Andrew's United Church.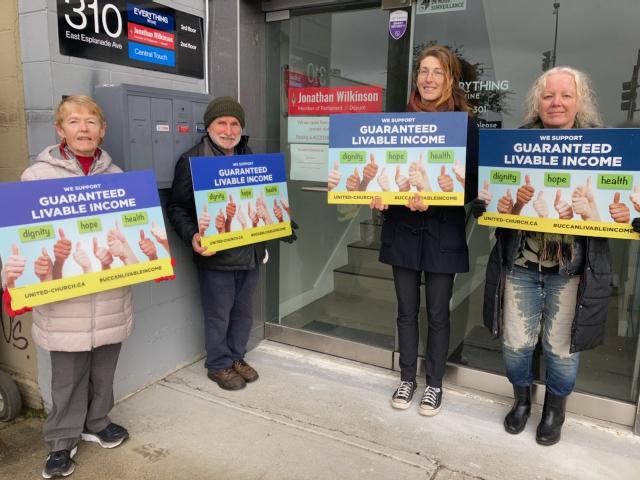 Credit: St. Andrew's United Church, North Vancouver
East Vancouver
The group at NDP MP Jenny Kwan's office urged the federal NDP party to press the Liberals to enact a guaranteed livable income.

Left: Kate and the Rev. Barry Morris. Right: The Rev. Margaret Marquardt and the Rev. Barry Morris.
Credit: GLI supporters, East Vancouver
Vancouver
People from three different churches—two of them United Churches—called on city council to endorse the guaranteed livable income as Victoria and Sooke, BC, already have.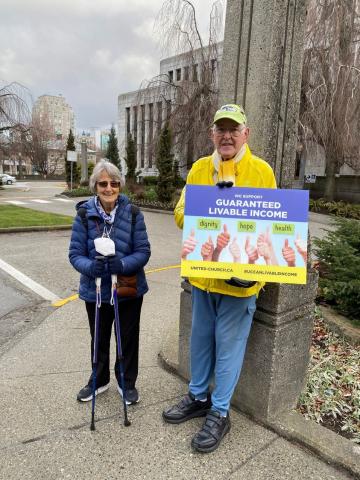 Credit: GLI supporters, Vancouver
Thunder Bay
At the Hon. Patty Hajdu's office, the group from Poverty Free Thunder Bay and the United Church was led by Ernie Epp.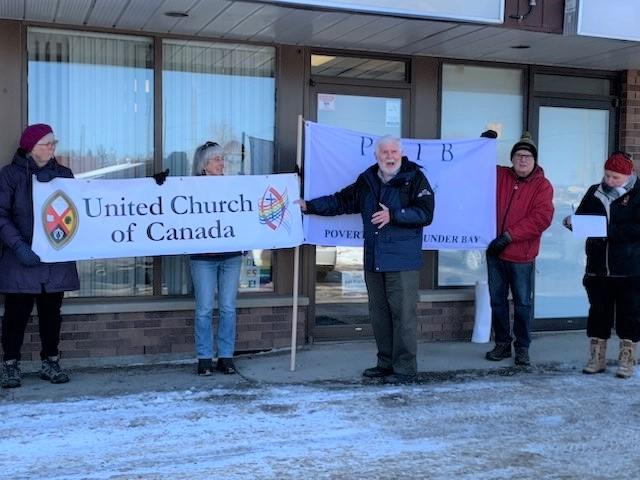 Credit: GLI supporters, Thunder Bay
Sudbury
At MP Viviane Lapointe's office, the group from St. Andrew's United Church organized by Torrin Maag and other young adults garnered excellent press coverage, including on CTV News with their creative mock funeral and outreach to local politicians and press: Some Sudbrians want a guaranteed livable income. Other news stories include St. Andrew's church holds vigil in support of guaranteed incomes and Guaranteed Livable Income is not perfect but it's a solution, Sudbury Christians Say.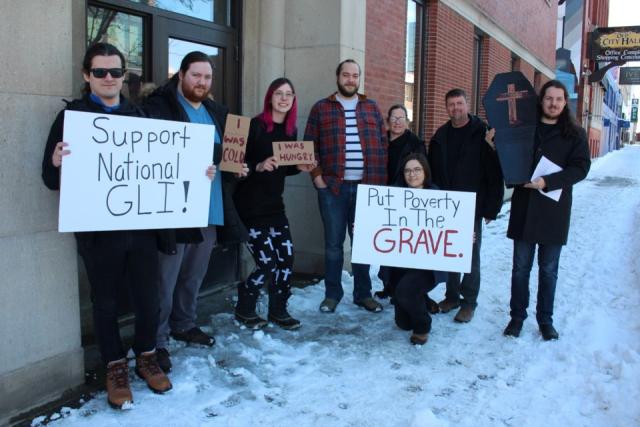 Participants in a March 26 vigil supporting a guaranteed livable income organized by St. Andrew's United Church, Sudbury.
Credit: Heidi Ulrichsen/Sudbury.com
Grimsby
At the Town of Grimsby Offices, the Rev. Donalee Williams-led the group from Trinity United Churchgarnered local support from Councillor Jennifer Korstanje. Read the news: "Urgently needed": Grimsby church joins call for a guaranteed livable income.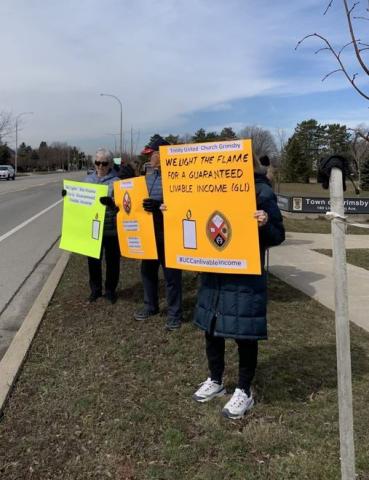 Credit: Trinity United Church, Grimsby
Toronto
At City Councillor Alejandra Bravo's office, Tina Conlon and Bread and Bricks led a large group from United churches and ministries.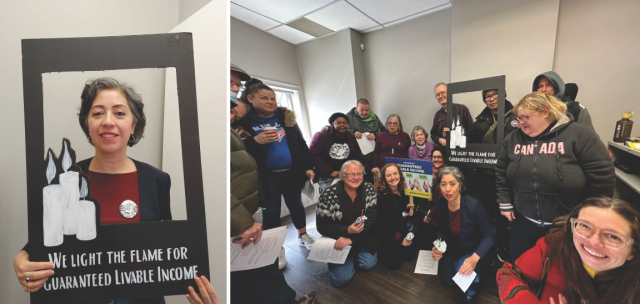 Left: Toronto City Councillor Alejandra Bravo. Right: Packed meeting room with leadership from Bread and Bricks group and attended by staff from provincial NDP leader Marit Stiles' office.
Credit: Toronto GLI supporters
Halifax
Basic Income Nova Scotia organized a Hybrid Basic Income Conference at the Halifax Library that was promoted by United Church members.
Upcoming vigils
St. John's, NL: Multifaith Vigil is scheduled for April 15 at 2:30 p.m.
Regina, SK: A vigil is planned for the spring.