"We are grateful for any kind of help."
Primary Media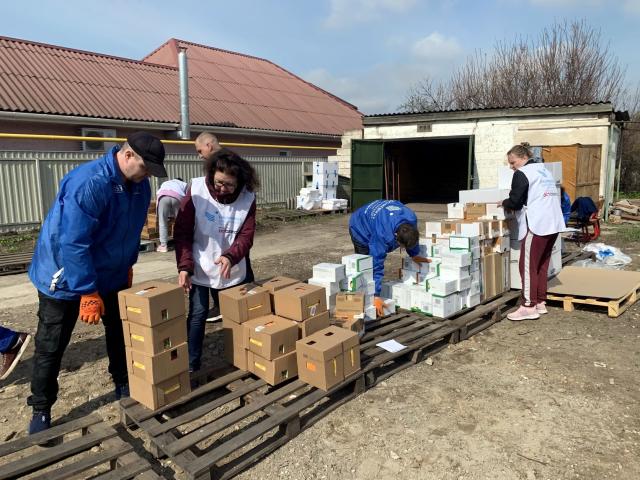 Hungarian Interchurch Aid distributes relief supplies in Ukraine.
Credit: ACT Alliance/HIA
Published On: June 13, 2022
Body
During peaceful times Kharkiv has a population of 1.5 million people—larger than Calgary and just a bit smaller than Montreal. But since the Russian invasion in February, half of those people have fled the city for safer places. Those who are still in Kharkiv are the people who can't leave: because they have nowhere to go, because they're unable to travel, or because they're taking care of others who must stay.
Grocery stores in Kharkiv are closed, public transit has stopped running, there is no electricity or running water, and many roads and buildings are unsafe. Although the daily Russian air raids have ended there are still intermittent rocket attacks and people still spend time in shelters. Add to this the fact that most people who are still there live in poverty or are disabled, and it's clear that those who are left in Kharkiv are the ones least able to survive without help.
ACT Alliance member Hungarian Interchurch Aid has recently been able to bring relief shipments to volunteers in Kharkiv, like Sergei Babin. Babin and his team are providing those who are unable to leave the city with food and other items they need.
"We are grateful for any kind of help, as the people of Kharkiv have been suffering from this serious humanitarian crisis for many weeks now," he says.
Providing emergency food and hygiene kits is one way your generous support of Mission & Service partners is helping support Ukrainian refugees.
Thank you for your compassion.
Downloads