Sustainable Development Goals 5 – Gender equality and 10 – Reduce Inequality
Primary Media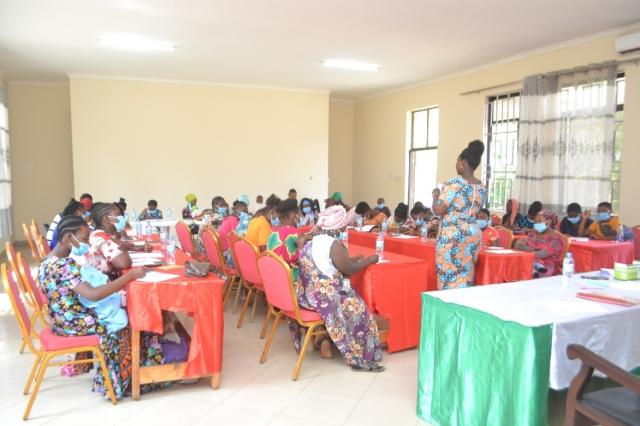 MWTC works with girls and young women with early pregnancies, building their entrepreneurial and leadership skills and providing education on health, reproductive rights, and legal rights.
Credit: MWTC
Published On: February 10, 2023
Body
For International Development Week 2023 (February 5-11) The United Church of Canada highlights Mission & Service Partners who are contributing to the Sustainable Development Goals.
The Morogoro Women's Training Centre (MWTC), based in Morogoro, Tanzania, is a national training and conference centre established by the Christian Council of Tanzania to "empower women fully through training, skills development, and sharing of knowledge, enabling them participate meaningfully in the life of the church, their families, and communities."
Significant progress on gender equality and women's empowerment has been made in Tanzania as women are taking up greater leadership positions in the government, including having the first woman President, Samia Suluhu Hassan, in 2021. However, change at the community level can take years or decades.
In 2017, an official Tanzanian government policy banned pregnant girls and adolescent mothers from continuing with their education. The effects were immediate as many girls had stopped going to school, deepening social stigma and discrimination, and leading to further isolation. Even when the policy was reversed with the new President, stigma made it difficult for girls to return to school or to seek prenatal care.
Working with community church leaders, MWTC reached out to 50 adolescent girls and young women with early pregnancies to participate in reproductive health and rights education, including identifying gender-based violence. They received access to counselling, learned about the importance of improved nutrition for adolescent mothers and young children, and received training on starting their own small businesses. The aim was to reduce social stigma through community education and awareness, allowing for girls to disclose their early pregnancy and have access to better overall care for themselves and their children. MWTC brought adolescent girls and young women with early pregnancies together, providing a peer support network and the knowledge that they were not alone.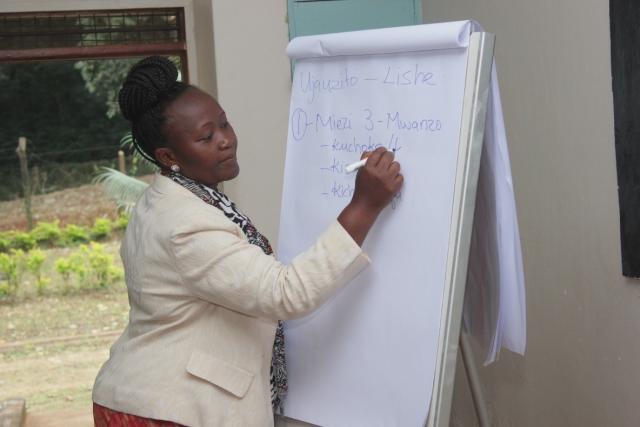 Mrs. Elina Kweka, a facilitator, provides training on the topic of Nutrition for Pregnant Mothers and Children.
Credit: MWTC
Following the workshop, adolescent girls said they felt more confident to engage in their communities. Some have even decided to return to school. All 50 participants received seed capital funding and formed groups to start their own small businesses in sewing, selling food at the markets, or in household products and goods, with a goal towards having a sustainable livelihood.
This training is one way that MWTC is striving to transform the lives of girls and young women in Tanzania, empowering them to realize their full potential and to be changemakers in their communities.
This project is co-funded by the Manitoba Council for International Cooperation and UCC designated funds that help support education of girls in Africa.