This is an exciting time of Spirit-led questioning, experimenting, and mutual learning.
We're still discovering the many ways in which the intercultural vision can be applied. Here are some things you can do as a leader, as an individual, and as a faith community to take up the intercultural vision.
Program Ideas
Books and Videos
For individual or group study, order the following from UCRDstore.ca:
Sample the Intercultural Ministries playlist on the United Church's YouTube channel; consider showing some in worship or a community group
Events
Participate in a Deepening Understanding for Intercultural Ministry program. Engage Difference! is the latest program being offered online January 10-April 4, 2022.
At our national and regional Behold! gatherings, participants saw, felt, and experienced our intercultural vision. Watch some videos where people from across the church worship, talk, listen, and imagine how to take away what they've learned.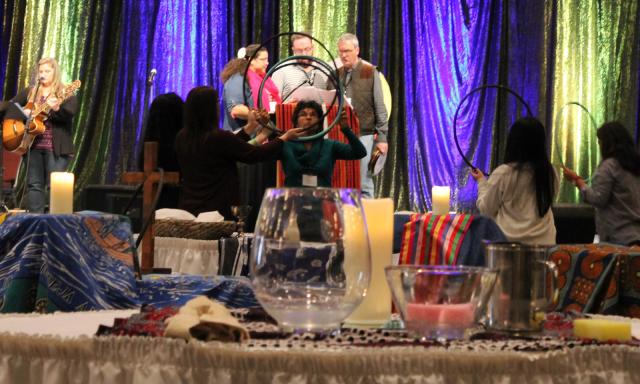 Credit: Kaitlin Bardswich, The United Church of Canada
Downloads (available below)
In meetings, discussions, and report writing, use the Intercultural Lens to stimulate reflection. Read the full version or project the summary questions; you can choose to focus on one question, or on several.
Use the Cultural Iceberg to consider the subtle manifestations of culture, including church culture.
In preparing for any interview process, review Conducting Interviews with Intercultural Awareness.
Use the Power Analysis Worksheet to build understanding of personal and systemic power in church and society.
The intercultural vision is about more than inclusion; it's about a radical welcoming that calls all of us to change: read the full vision.
The purposes of the 2019 Intercultural Ministries Survey were to give United Church people an opportunity to express their experiences and attitudes toward the church's intercultural commitment, as well as provide insight into the challenges and opportunities that exist as the church works toward implementing our intercultural vision. A summary of the survey's findings is available under Downloads.
If these ideas excite you, challenge you, or leave you wondering what this is all is about, we'd like to hear from you. Please contact:
Emelito Yango
Identity and Mission Network Coordinator
eyango@united-church.ca
416-231-7680 x4522
1-800-268-3781 x4522
Downloads