The Indigenous contribution to the church is honoured by the Mohawk phrase "Akwe Nia'Tetewá:neren"—all my relations—on the crest.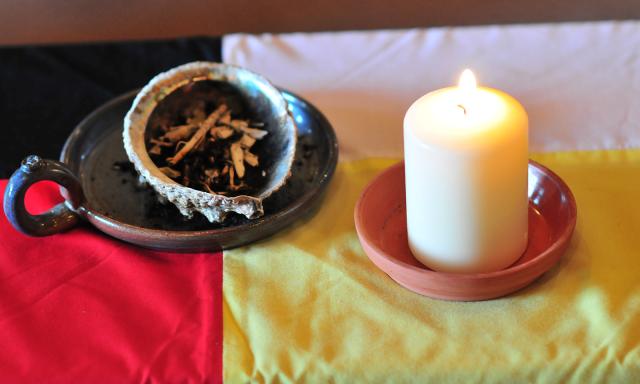 Credit: Ren Ito, The United Church of Canada
The four colours of the Medicine Wheel and the Mohawk words have been incorporated on the United Church crest since 2012. Indigenous spirituality, leadership, and participation are vital to the church's life.
Indigenous peoples welcomed those who brought the Christian gospel to this land, and Indigenous faith communities were part of the formation of the United Church. However, the church also acknowledges the limitations of a Christianity rooted in European origins, and the profoundly negative impact it had on the Indigenous peoples of Canada. The United Church has apologized for this broken relationship and is actively working to heal it.
Today, there are Indigenous communities of faith across the country. The United Church's Indigenous Ministries and Justice Circle works with these communities to understand their needs, share their wisdom, and support and empower their people. The National Indigenous Spiritual Gathering is a triennial event that brings together members from all the Indigenous congregations to discuss the current reality and discuss changes for the future. United Church congregations are encouraged to acknowledge the territory they are on, build relationships with Indigenous communities, and incorporate Indigenous themes into worship.
The Circle also fosters initiatives for reconciliation between Indigenous and non-Indigenous peoples. For example, in 2015, an ecumenical group met to review and discuss the Doctrine of Discovery—the historical position that disregarded non-Christian people and justified taking their land—and to generate resources for congregational engagement.
The Circle also helps to facilitate  international connections among Indigenous peoples. Recently, this has included participation in global partnership exposure visits, Indigenous participation at UN Climate Conferences, and an exchange with the Uniting Aboriginal and Islander Christian Congress of the Uniting Church in Australia.
Downloads