The way we treat LGBTQIA+ and Two-Spirit people will not change dramatically until we dismantle the archaic notion that heterosexuality equates to holiness.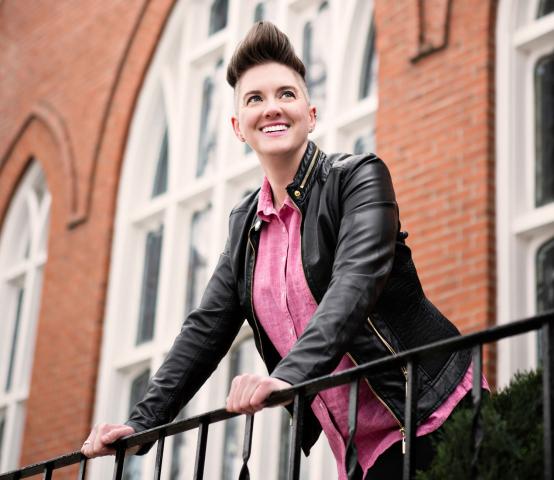 Author Pam Rocker
Credit: Jager and Kokemore
Published On: March 12, 2020
"I don't want to lose my family, but I really don't want to go," she told me, her body stiffening. Talented, artistic, and ambitious, she was a recent university grad. From the outside, she seemed buoyant and full of potential. But on the inside, she was torn between losing her family and losing herself.
The place she didn't want to go was a program hosted by a self-proclaimed "ex-gay" author affiliated with an organization that provides conversion therapy for LGBTQIA+ and Two-Spirit people. Her parents gave her an ultimatum: "Either you go, and come back straight, or never speak to us again."
This heartbreaking story is shockingly normal in my line of work. Having worked in the intersections of queer and faith communities for almost a decade, I've listened to hundreds of people of many ages and backgrounds who have been subject to some form of conversion therapy right here in Canada.
Conversion therapy is the pseudoscientific practice of trying to change an individual from homosexual or bisexual to heterosexual. Psychological and religious interventions are mostly employed, but physically invasive punishment methods still exist. Heterosexuality is the prized goal, with behaviour correction and adherence to restrictive religious beliefs the central teaching methods.
True stories—as depicted in the memoir and film Boy Erased and the documentary Kidnapped for Christ—are incredibly important. But lesser known and just as scary is that it's likely you have at least one church in your city that runs conversion therapy programs through workshops, prayer groups, conferences, pastoral counselling, and referrals to non-affirming psychologists.
Attempts to change someone's sexual orientation are not only futile and rooted in toxic theology, sometimes they're lethal. They result in LGBTQIA+ and Two-Spirit people having to live in perpetual shame and precarity, forced to choose between conforming to the beliefs of their church or family, or losing everything and everyone. If those are the only options, it's no wonder that so many people attempt conversion therapy. When our core desire to belong is at risk, we will try almost anything to maintain a sense of rootedness.
As a gay Christian, one of the most horrific aspects of all of this for me is that God and a few Bible verses are used as a twisted justification for this discrimination. It saddens me to meet with so many survivors who say that the faith they once held as sacred and meaningful was used against them so they could be controlled. This is a glaring example of how religion is weaponized, and why it's so difficult for queer folks to see themselves in church at all.
Some good news is that progress is being made to create and enforce legal bans on conversion therapy. I champion these efforts while also knowing that, whether the practice is banned or not, it will continue to exist in many forms until we completely disrupt the narrative that gender- and sexually diverse people are inherently sinful.
The way we treat LGBTQIA+ and Two-Spirit people will not change dramatically until we dismantle the archaic notion that heterosexuality equates to holiness.
What gives me hope is that more people of faith are stepping into the public square and living out their beliefs by loudly stating the truth: that LGBTQIA+ and Two-Spirit people are created and loved by God. Religious attacks require a religious response, and as religious communities and people, we have the privilege and responsibility to deconstruct ideology that keeps people oppressed. We have the ability to hold our religious and political leaders accountable and abolish this torturous practice.
I wish for the day when we are no longer forced to fracture ourselves in order to belong. My dream is to be part of a movement that reclaims the gospel, the revelation of Christ, as a tool for liberation, so that it is no longer used to shame or flatten our identities. The promise of faith can be, should be, that we can only truly revel in our own freedom when all of us are free.
—Pam Rocker is a faith leader, award-winning performer, speaker, and musician, and the director of Affirming Connections.
This article was originally published in the Fall 2019 issue of Mandate magazine. Visit UCRDstore.ca to find out more about Mandate, subscribe, or to order single copies.