Skills learned at the Asian Rural Institute in Japan create a teaching farm in Sierra Leone.
Published On: December 4, 2020
Body
Find this video and others available for streaming and for download on our YouTube channel.
We don't always know the extent of the good we do even when we are giving generously. When we make a gift, we hope to have an impact but often can't foresee how many lives we touch or how far our care extends. Mambud Samai's story is a tangible example of how your gifts through Mission & Service send ripples of compassion across continents.
Mambud, a pastor, lives in Sierra Leone, where an estimated 27,000 citizens became amputees during the civil war that raged between 1991 and 2002.
To support amputees he visited in rehabilitation camps after the war, Mambud turned to soccer, his country's favourite sport. He founded a soccer league for amputees called the Single Leg Amputee Sports Club of Sierra Leone to help restore hope. Now 350 members strong, the league isn't just about helping amputees overcome discrimination, restoring their pride, and providing therapeutic support. As if these alone aren't amazing.
Two years ago, Mambud decided he wanted to make an even bigger difference. So, he flew all the way to the Asian Rural Institute (ARI for short), a unique school in Japan that your Mission & Service gifts support. Thanks to generous supporters like you, ARI trains thousands of leaders like Mambud from all over the world to grow food, tend livestock, and be effective change agents in their community.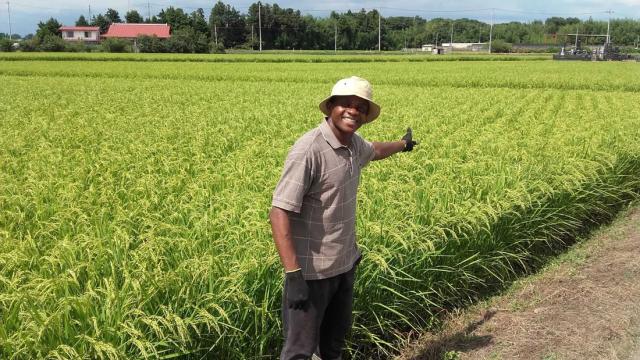 Credit: The United Church of Canada
After graduating from the nine-month program at ARI, Mambud returned to the soccer fields of Sierra Leone with a new goal: to develop teaching farms where people can learn to grow food sustainably and support themselves financially by selling that food at market.
Mambud and members of the Single Leg Amputee Sports Club of Sierra Leone now run an educational farm, and there are plans to convert more of Sierra Leone's fertile land into gardens and teaching centres. In a country where the average person lives just 43 years, Mambud's extraordinary leadership and the skills he learned in Japan save lives.
From Canada to Japan to Sierra Leone―Mambud's story is just one example of how your gifts do a world of good.
If Mission & Service giving is already a regular part of your life, thank you so much! By supporting leaders like Mambud with education and training, your generosity helps change lives around the world. Thank you!
Use this and other stories found in Your Generosity Matters (formerly Minutes for Mission) to spread the word about Mission & Service.
Downloads