Access to food is a basic right.
Primary Media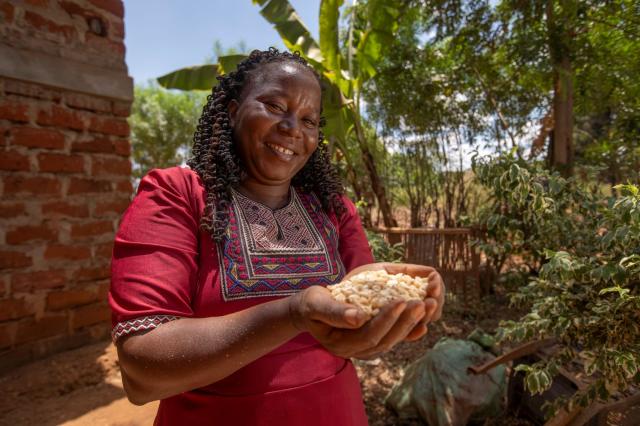 Susan Karea is a farmer participating in the Conservation Agriculture Project in Tharaka Nithi, Kenya. The project is implemented in partnership with the National Council of Churches of Kenya, The United Church of Canada, and Canadian Foodgrains Bank.
Credit: Mwangi Kirubi/CFGB
Published On: October 16, 2020
Body
The United Church of Canada believes access to food is a basic right. Those who work to provide food—farmers, fishers, gatherers, and hunters—as well as those who transport, distribute, and prepare food should enjoy safe and dignified working conditions and earn an adequate livelihood.
The experience of the pandemic has shown us in stark relief that this is not the case for many people around the world. The fact is vulnerable people become even more vulnerable in the midst of a crisis. A large part of the world lives with the reality of not having enough food for their families.
The United Church of Canada supports local, national, and global partners as together we work to help bridge the gap between having enough to eat and being hungry. United Churches support
local efforts like foodbanks, meals for vulnerable community members, community gardens and foodsharing programs
Gifts with Vision projects like Food for the North that help people access the food they need in different ways
global initiatives like United Church collaborations with global partners to improve farmers' capacity to grow their own food, and provide food assistance when a hand up is needed
growing projects that support the United Church's response to hunger through the Canadian Foodgrains Bank
Visit Food Security to see some of the ways the United Church is working to end food insecurity.
As we look toward World Food Sunday on Sunday, October 18, join with others across the United Church in a robust and compassionate response to hunger.
Take the opportunity to reflect on how you are responding to food insecurity in your own community.
Together we make a difference.
We are not alone. Thanks be to God.