Meaningful work helps Jesse—and all of us—thrive.
Primary Media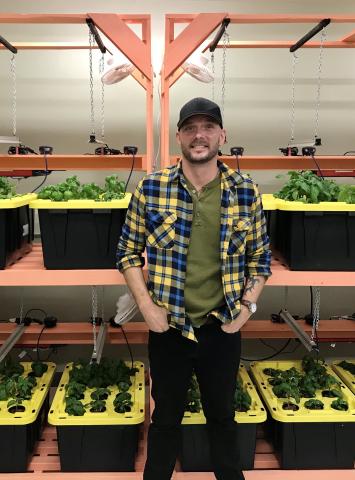 Jesse in the hydroponic greenhouse at Stella's Circle.
Credit: Stella's Circle
Published On: March 22, 2021
Body
After a brain injury and the death of his mother, Jesse found himself homeless and sleeping in a storage unit. Now, thanks to employment training and support programs run by Mission & Service partner Stella's Circle combined with his hard work, Jesse is a trained greenhouse technician. He leads a new social enterprise that grows produce for sale. One day, Jesse hopes to supply restaurants with the produce he and others grow.
What does work mean for him? "It means maintaining my independence. It means building confidence. It means instilling purpose. It makes me feel functional," says Jesse.
Supporting job training and employment programs has never been more important. Because of the pandemic, 114 million more jobs were lost in 2020 than in 2019. Four times more jobs were lost during the pandemic than during the global financial crisis in 2009.[1]
All of us work at something, whether we are paid or unpaid. When our values match what we spend time working at, we find meaning in life. People who are unable to work not only struggle to pay the bills, but their sense of meaning and self worth suffers too.
That's why your generosity through Mission & Service supports job training programs here at home and around the world.
Meaningful work helps us thrive. Maybe that's why, in the Bible, "work" is mentioned more than 800 times. In the Easter story, the work of Passover preparations set the table for Jesus' divine work order: "This is my body given for you; do this in remembrance of me."
Mission & Service supports programs that help people find meaningful employment and renewed life. It's one of the ways you and I participate in God's holy, resurrecting work every day. Thank you for your generous support.
Note
[1] International Labour Organization, ILO Monitor: COVID-19 and the world of work. Seventh edition (January 25, 2021).
Downloads