Practising conservation agriculture produces thriving crops.
Primary Media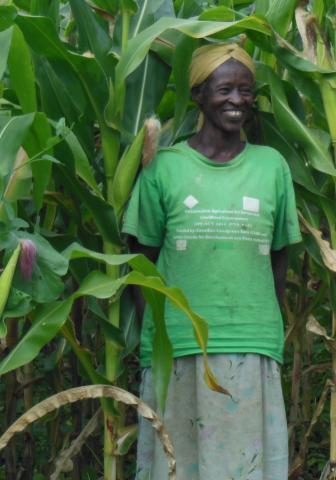 Barari was the first farmer in her village to practise conservation agriculture.
Credit: Emma Taylor
Published On: July 26, 2021
Body
It's not easy being a trailblazer no matter where you live. Barari was the first farmer in her small Ethiopian village to practise conservation agriculture, a method of reducing tilling and using intercropping and mulching to improve the success of crops.
Barari remembers the way the other farmers in her village laughed at her when she began to farm differently. "It is a waste of time," they said. "It will never work."
Fast forward three seasons: Barari's crops are overflowing. She beams with pride as she talks glowingly about her thriving crops, inviting visitors to taste her fava beans.
Barari's method of farming is so successful that she is able to feed her growing family of six. In fact, she has so much produce that she sells the extra to buy school supplies for her children.
Barari learned these life-saving farming skills through a Canadian Foodgrains Bank program called Scaling-Up Conservation Agriculture in East Africa.
The program is important because most of the African continent's soil is poor quality compared to other parts of the world. In many areas the soil is so eroded that it is no longer productive. Conservation agriculture is key to improving the soil, which in turn saves lives.
The United Church works in partnership with agencies that coordinate life-changing agricultural projects across the globe. Your generosity helps farmers feed their families and community.
If Mission & Service giving is already a regular part of your life, thank you so much! If you have not given, please help save and transform lives, inspire meaning and purpose, and build a better world through Mission & Service.
Supporting vital agriculture programs is how you―how we―help make a lasting difference.
This story is brought to you by Emma Taylor, who lives in Halifax, Nova Scotia. Emma participated in the Canadian Foodgrains Bank tour of Ethiopia through The United Church of Canada's People in Partnership program, where she met Barari. Check out her blog post.
Downloads