"Many of us have gone hungry both physically and spiritually."
Primary Media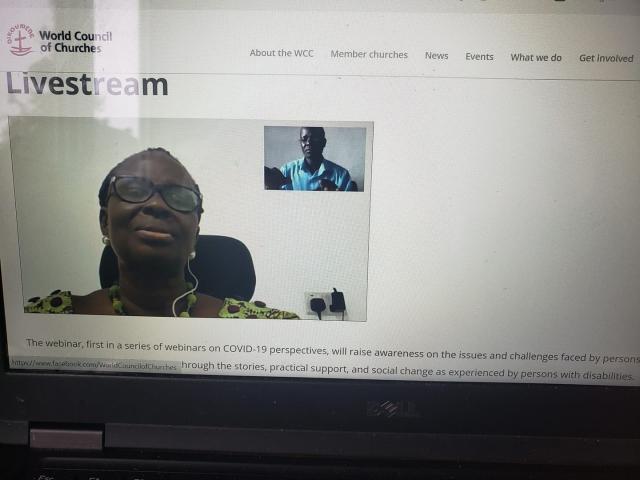 Gertrude Fefoame, who is visually impaired, explains how COVID-19 affects people with disabilities in a webinar hosted by the Ecumenical Disability Advocates Network.
Published On: November 3, 2020
Body
COVID-19 safety protocols can save lives but only for those who can access them. Staying home is an inconvenience for some, but it can be a nightmare for those who rely on a support network that can enter their home. Masks prevent the spread of the virus, but for those who need to read lips to communicate, masks can also present significant barriers.
These and other challenges that COVID-19 heightens for people around the world living with disabilities were highlighted in a recent, ground-breaking webinar hosted by the Ecumenical Disability Advocates Network (EDAN) of the World Council of Churches. The webinar is the first of a free, upcoming series of webinars through the World Council of Churches aimed at raising awareness of the issues and challenges faced by a variety of groups because of COVID-19.
Gertrude Fefoame, a leader in the Presbyterian Church of Ghana, was one of the panelists discussing issues the pandemic presents around disability. "How can I as a visually impaired person wash my hands according to the description if I can't access it?" she asked webinar attendees, adding that social distancing also makes finding support harder. "Many of us complete our daily life activities with personal support. This becomes a big problem during the pandemic as we are afraid of them and them of us. Our lives become difficult. Isolation results in lack of service and sometimes abuse by those locked down with us. Many of us have gone hungry both physically and spiritually."
Disruption in routines caused by social isolation can be difficult, especially for those with developmental disabilities. Routines often bring comfort and structure, and their disruption can be hard. Webinar panelist Helen Setyoputri is a pastor from Indonesia who parents a 10-year-old son with Down Syndrome. While the loss of routine has been difficult for her family, she is quick to say that faith helps her frame the obstacles. "I talk to my son about how the God of surprises is in the midst of change, and I emphasize imaginative presence in that we can't meet others in person but we can be united in the soul," Setyoputri says. During times when her son feels the absence of community most keenly, she focuses on attending to and nurturing nature. Setyoputri says stigma around disability is a constant hurdle. "In Indonesia, only 30 percent of children with a disability are enrolled in school…. Disabled people are associated with sin," she says. But in the face of stigma, the Bible provides comfort and challenges stereotypes: "I emphasize that God loves all of us."
Like Setyoputri, the Rev. John Naude, a priest and disability activist based in the UK, told webinar attendees that Christians should turn to the Bible to address stigma. "The church really needs to look biblically rather than just at the social message that the disability movement is trying to promote," he says. Naude points out that from the outset of the Bible in the Book of Genesis, Christians are taught that all people are created in the image of God, disabled or not. While the pandemic exacerbates vulnerabilities, it also presents opportunities for leadership. "We can see through scripture loads of times how God uses people with disabilities to bring his message. There's Moses with his stammering. Jacob with his limp. Paul with a thorn in his flesh…. The church needs to see what disabled people can do to serve," he says, pointing out that people with disabilities can provide leadership and support during the pandemic: "Every member of the body of Christ is needed for the church to reach its full potential."
Your gifts through Mission & Service support webinars that EDAN hosts and other disability networking, advocacy, and education work within and beyond the United Church. Thank you for helping to build a better world.