The Organization of African Instituted Churches supports made-in-Kenya solutions to challenges.
Primary Media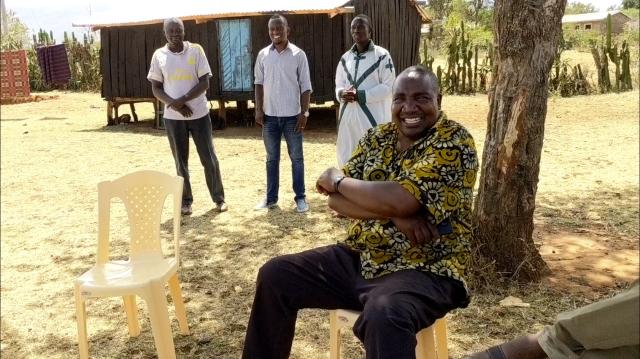 Ven. John Gichimu, staff leader in OAIC, with community leaders in Kapenguria, Kenya
Credit: The United Church of Canada
Published On: July 5, 2019
Body
In January 2019 I had the privilege of spending two weeks in Kenya through the Pilgrims in Mission Program of The United Church of Canada. The visit, organized by Mission & Service partner Asian Rural Institute (ARI), was primarily an opportunity to meet Kenyan graduates of the ARI community development internship. While there I was also able to meet with other Mission & Service partners in Kenya, including the Organization of African Instituted Churches (OAIC).
Founded in 1987, the OAIC is a pan-African organization that brings together African churches incorporating indigenous forms of worship, theology, and social organization, all deeply inspired by a vision that is both Christian and African. As followers of Jesus Christ, OAIC is called to respond with conviction to the challenges faced by African cultural and social systems, such as entrenched poverty and ill health, and to help people organize themselves to confront these obstacle based on the values and resourcefulness of African grassroots communities.
Rooted in the philosophy of ubuntu—a recognition that we are all bound together and we succeed when we care for all those around us—OAIC maintains that spirituality is a matter of daily life, encouraging pastors to attend to everyday issues with the hope of a better future where there is an abundant life for all.
Some of the important issues OAIC is working to address include
community health
deforestation
alternative cooking methods that are environmentally sustainable and healthier (traditional cooking methods use charcoal)
high infant and child mortality rates
how women can be empowered to become leaders in their communities
understanding the role of churches in preventing and treating HIV and AIDS
Kenya is a country looking for ways to feed, educate, and provide health care for its people. Members of the Organization of African Instituted Churches, and others that I met in Kenya, are part of a made-in-Kenya solution to these challenges.
Gary MacDonald is an active member of Sackville United Church and community, including being a Sunday school teacher, choir member, and food bank volunteer, and is interested in the art of storytelling. Gary is one of a number of people available to share their stories of the global church with United Church of Canada communmities of faith. See our list of available speakers.
Does this blog pique your interest to participate in people-to-people opportunities with global partners? We invite you to find out more at the People in Partnership webpage or by emailing us.