"We help our fellow members."
Published On: December 4, 2020
Body
Find this video and others available for streaming and for download on our YouTube channel.
Hard work doesn't always pay off. Around the world, many people work hard and still can't feed their families. Your gifts through Mission & Service turn hard work into true hope for the future. Thanks to your support, resourceful people like Margaret Kagundu don't just survive but thrive.
Margaret and her children live in challenging conditions in Nyeri, Kenya. In an area of widespread poverty, families live in makeshift homes without running water and have very little access to healthcare. Disease is so rampant that the average woman like Margaret can expect to live just 30 years.
Margaret struggled to meet her family's basic needs before she received a micro-loan from a lending program called Jamii Imara (pronounced Jam-ee EE-mara), which your gifts support.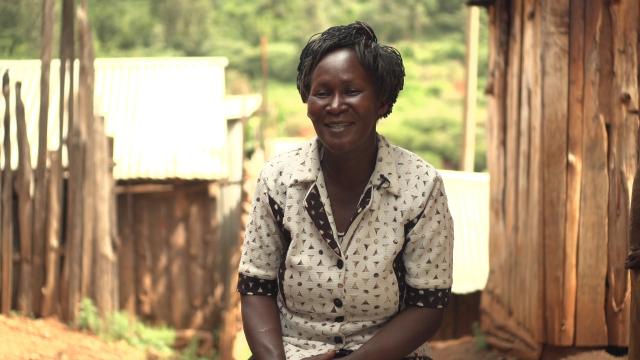 Credit: The United Church of Canada
Wanting to improve her life, Margaret applied for a small, interest-free loan from Jamii Imara to lift herself out of poverty. She used it to purchase a home to rent out. With the rental income, she paid back the loan and then applied for another. She has received and paid back many loans to date. Margaret now owns two rental homes and is a proud landlord. The income is helping her feed and educate her family.
Your support teamed up with Margaret's hard work means that Margaret's son is in high school today. Considering 90 percent of children living in poverty in Kenya don't finish grade 8, that's a remarkable achievement.
"I was granted 10,000 shillings four times. I have even started keeping goats that reproduce. I have educated my children," Margaret says.
The Jamii Imara project helps women like Margaret establish their businesses. Together, the businesswomen share best practices and help each other financially to survive difficult times.
"We help our fellow members. If one's husband is ill, we continue to help her. If one's child is ill, we contribute to help her," says Margaret. "There are many women who want to join the group because they see that I have progressed a lot. I am no longer the way I was before."
Supporting women like Margaret who are determined to change their lives is just one of the ways you are helping to turn hard work into hope every day. Make your Mission & Service gift today to help transform and save lives.
Use this and other stories found in Your Generosity Matters (formerly Minutes for Mission) to spread the word about Mission & Service.