"My heart swells with pride at the people who are stepping up to help."
Primary Media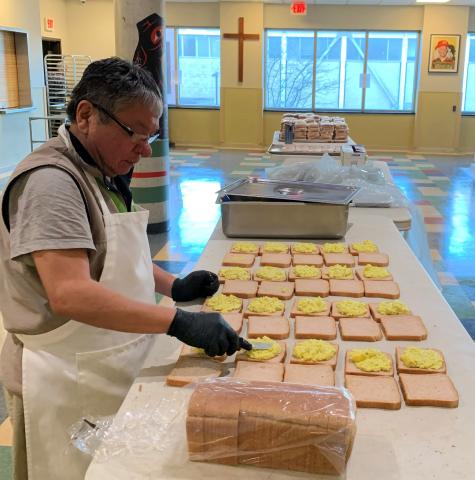 Bernie makes sandwiches for street-involved people.
Credit: Our Place Society
Published On: November 13, 2020
Body
"If COVID continues, where will we eat?"
This question tops the list of questions that Grant McKenzie, the communication director at Our Place Society, is fielding these days.
Thanks to your gifts through Mission & Service, the answer continues to be "Right here."
At Our Place in Victoria, BC, three square meals are delivered each day, rain or shine. The chefs are coming up with creative, one-bowl meal options and are taking to the streets themselves to ensure people don't go hungry. Custodial teams are doubling efforts to keep the shelter safe. Paramedics have been added to the outreach team and are offering much-needed medical care. Sleeping bags and emergency supplies are being distributed to those who need them most.
This is just one example of how, by giving through Mission & Service, you are sharing the light of Christ with those who are most vulnerable in Canada and around the world.
As the pandemic continues, more and more people need our help. In 2019, a quarter of the global population experienced hunger or did not have access to nutritious food. Think about that: That's one in four people! And now the UN predicts that, because of the pandemic, that number could rise by 12‒19 percent.
Your Mission & Service gifts support people who rely on foodbanks, shelters, and emergency relief at home and abroad. Now, more than ever, those of us who have enough to share need to do what we can to help.
"In this strange and difficult time, my heart breaks with sorrow at the vulnerable people struggling to survive with yet another obstacle in their path, but my heart also swells with pride at the people who are stepping up to help," says McKenzie.
By giving through Mission & Service, you are stepping up to help. 
If you already give to Mission & Service, please know that your care is making a difference coast to coast to coast and around the world when it is needed most. If you haven't given, please make a gift through our shared Mission & Service this Christmas.
View our Advent video and this prayer, and consider sharing them with your community of faith.
Thank you for shining Christ's light through Mission & Service this Christmas!