"By protecting the underserved community, we protect everybody in the community."
Primary Media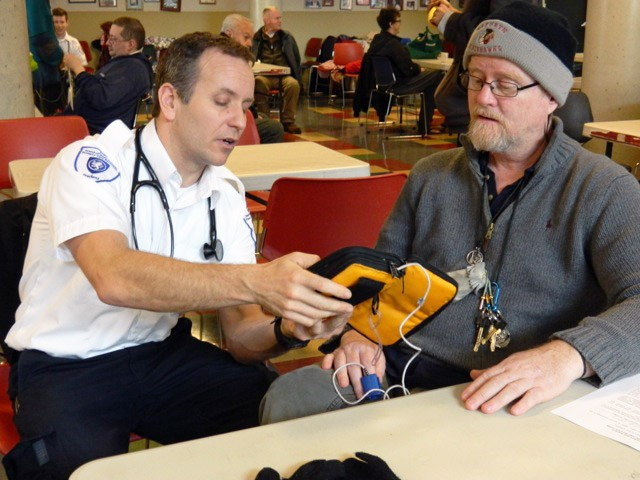 A client receives medical treatment at Our Place, Victoria, BC.
Credit: Our Place
Published On: April 2, 2020
Body
A Mission & Service‒supported community centre serving Greater Victoria's most vulnerable, Our Place is bracing for COVID-19 to strike. Grant McKenzie, the Communications Director at Our Place, predicts that more support from paramedics will be needed in the near future if the virus spreads.
"This population is especially vulnerable to being hit extremely hard by COVID-19 because so many of them already have underlying health issues. When you struggle every day, wondering where you're going to sleep at night and where your next meal is coming from, you only access health services when it's life or death," says McKenzie. "By protecting the underserved community, we protect everybody in the community. It's so very easy for our delicate health system to become overrun—and if COVID-19 runs amok in this population, we'll hit the tipping point that much harder."
For over 50 years, Our Place has served Greater Victoria's most vulnerable people: working poor, impoverished elderly, mentally and physically challenged, addicted, and homeless. Even though Our Place has had to close its drop-in space, computer lab, and courtyard area in order to comply with provincial health guidelines, it continues to help those who rely on their services.
"There is a lot of fear around what happens when this virus makes its way to the people we serve. But our dedicated staff isn't about to abandon them. We know that there is going to be so much help that our family members need, especially when it comes to nutrition, hygiene, and a place to live. While we have had to close access to the building, we are still serving up to 1,400 meals a day, handing out 1,200 bottles of water, and offering paramedic services. We are working hard," says McKenzie.
Your gifts through Mission & Service mean that people who are especially vulnerable can access life-saving services through organizations like Our Place. Thank you!
Find out more about Our Place.