The health of small farms is vital to solving chronic food insecurity in Africa.
Primary Media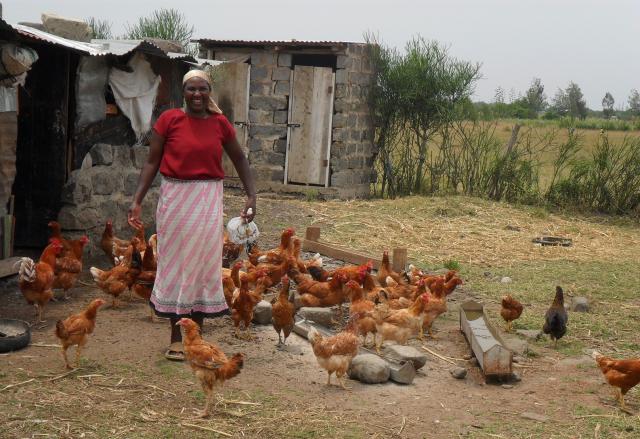 Kenyan farmer Rose Muthoni smiles amongst her chickens. Poultry-raising projects supported by the United Church and the Organization of African Instituted Churches help improve family nutrition and provide opportunities to earn income.
Credit: Organization of African Instituted Churches
Published On: February 4, 2020
Body
For International Development Week 2020 (February 2–8), the United Church highlights two Mission & Service partners supporting food security and improved livelihoods for women farmers in Kenya.
In Kenya, women farmers are doing big things with small plots of land.
In West Pokot
Farmers learn best from one another. Mission & Service partner the Organization of African Instituted Churches (OAIC) supports farmer-to-farmer knowledge exchange through interactive model farms. Demonstrations enable farmers to see for themselves how new technology works; small-scale farmers adopting new methods are taught how to cope with and manage ongoing agricultural challenges, climate change, and food insecurity.
The OAIC is using this knowledge exchange model to promote chicken farming to farms that are subject to extreme weather or aren't large enough to raise cattle. Women in particular are raising chickens to boost their household income and also for the eggs, a good source of protein for their families. Poultry farming yields quick results of profitability, and pride in their chicken farming "has boosted our self-esteem as women," says Maureen Wapes, a resource person trained by OAIC.
This initiative is part of the Organization for African Instituted Churches' (OAIC) Food Security Program; the OAIC receives Mission & Service funding from the United Church.
In Tunyai
Young farmer Anastasia is experimenting with conservation agriculture (CA) techniques on one quarter of her one-acre farm. She is planting maize using two CA practices she recently learned about that will help the soil retain water and nutrients—particularly important in semi-arid, drought-prone areas.
The United Church, in partnership with Mission & Service partners the National Council of Churches of Kenya (NCCK) and the Canadian Foodgrains Bank (CFGB), have helped provide CA training for Anastasia, as well as connecting her with a more experienced woman farmer that visits her farm and provides mentorship and support. This project will enable women farmers such as Anastasia to generate greater yields of food to sustain their families during the lean season and earn enough income to ensure their family members live healthy lives.
Small Farms, Big Potential
Smallholder farmers are some of the most important growers of food around the world, especially in Africa. According to some estimates, almost 80 percent of food in Africa is supplied by these small farms. It is also the main source of income for millions of people. The health of these farms is therefore vital to solving chronic food insecurity in the household, nationally, and globally.
And yet, smallholder farmers are some of the poorest and most marginalized in the world. They are constantly exposed to threats including food price volatility and increasing lack of access to land. They can also lack access to markets, agricultural inputs (which includes everything from quality seeds to farm equipment), financial services, and education. Farmers are also on the frontline of the effects of climate change including floods, drought, and climatic shocks.
Women farmers are particularly vulnerable. Many of these farm households are led by women who depend on farming for their livelihood and to feed their families. Women provide 80 percent of the labour for growing food, yet receive less than 10 percent of the income. Poor yields have an immediate impact on daily life—there is no money for school fees, medical costs, or basic household needs.
Mission & Service partners are working to support smallholder farmers globally. By providing access to conservation agriculture training, markets, financial services, and quality inputs, as well as creating connections among farmers, United Church partners help farmers lift themselves out of poverty.
Learn more about the importance of CA from this Canadian Foodgrains Bank Q&A.
SDG 2: Zero Hunger
Access to food is a basic right; however, climate change, conflict, and growing inequality around the world means that the most vulnerable people don't have enough food. According to the United Nations' Forum on Sustainable Development, 821 million people (approximately 1 in 9 of the world's population) were undernourished in 2017. These numbers are on the rise for the third consecutive year.
The United Nations' second Sustainable Development Goal (SDG) is Zero Huger: "end hunger, achieve food security and improved nutrition, and promote sustainable agriculture."
The United Church works with Mission & Service partners around the world to address global hunger and encourage fair and sustainable food systems. For International Development Week 2020, consider how people of faith can help achieve the goal of zero hunger by 2030. Some ideas include