"We are trying to reach people in need while we can."
Primary Media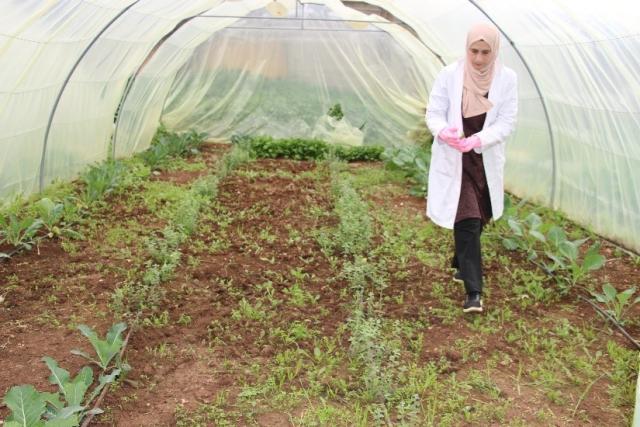 Abeer, a volunteer at the Al Husn refugee camp in Jordan, harvests vegetables for those in need.
Credit: DSPR Jordan
Published On: May 1, 2020
Body
Palestinian refugees living in the Al Husn refugee camp, 80 km north of Amman, Jordan, are under lockdown because of COVID-19.
Forty thousand registered Palestinian refugees and 3,000 Syrian refugees live in the camp, one of six so-called "emergency" camps originally set up in 1968 for people who fled the West Bank and Gaza Strip during the 1967 Arab‒Israeli war.
Today, there is one health centre with a single doctor on staff in the Al Husn camp, and nearly half of the refugees living there don't have health insurance. Accessing food, which is always a challenge, is extremely difficult now.
The Al Husn camp, like many of the world's largest refugee camps, is bracing for the virus. In refugee camps, overcrowding, limited access to sanitation and food, as well as already weakened health conditions means that people are more likely to get sick.
From the nearby Za'atari refugee camp, Mohammad Tahir, an external relations officer for the United Nations Refugee Agency (UNHCR) says he is most concerned for the children: "A large portion of the population are children, and it's hard to make them understand the need for isolation and extra handwashing. My real concern is that this is a very crowded environment, so if we do have cases it will be very hard to contain."
At Al Husn, Fares Swais, the Executive Director of the Department of Service to Palestinian Refugees (DSPR) Jordan is determined to do what he can to help. "We are trying to reach people in need while we can," he says.
In 2019, the United Church's Mission & Service helped Swais and the DSPR build two greenhouses in the camp to teach women to grow vegetables and provide food to take to market. Now, the greenhouses overflow with vegetables. "Schools, families, medical centres, and other institutions inside the camp started ordering from our kitchen, providing employment," says Swais.
While social isolation protocols shut down a lot of activity, within a week, the organization, adhering to social distancing protocols, still distributed more than 150 vegetable parcels to the poorest households inside the camp. Also, sugar, flour, and canned food from the organization's kitchen were given to those who needed it most.
"This was the first response to COVID-19 in the Al Husn camp. We are very proud of our committees and volunteers, who are creative and ready to help the most vulnerable. We are going to continue to do what we can. In the weeks to come and when some normalcy is restored, we anticipate more need to relieve the poorest households in our different refugee camps," predicts Swais.
Your gifts through Mission & Service mean that people living in refugee camps can receive support in the midst of the COVID-19 pandemic through organizations like the DSPR. Thank you!
Learn more about the Department of Service to Palestinian Refugees.