Rainbow Camp® provides campers with a safe space to be who they are without judgment.
Primary Media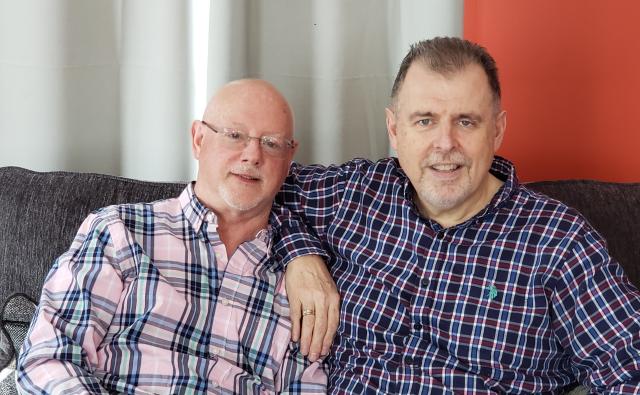 Harry Stewart and Chris Southin
Credit: Harry Stewart and Chris Southin
Published On: March 22, 2021
Body
Chris Southin was lounging in front of the television and Harry Stewart was in the kitchen when they got the call from the Governor General's office. Over the phone, the couple learned they had won an award from the Governor General recognizing "great Canadians for exceptional deeds that bring honour to our country." They received the honour for co-founding Rainbow Camp®, based in northern Ontario. Since 2012, the camp has welcomed young people of all sexual identities.
"It was unbelievable. We didn't even know we were nominated," says Stewart. "We will receive the award in person when the pandemic lifts. I guess I'll need to buy a suit," he laughs.
From the beginning, Mission & Service has supported Welcome Friend Association, which runs Rainbow Camp®.
"Initially, we wanted to bridge the local LGBTQ community with area churches. We started the association, and then we launched the camp. We had no idea what we were doing at the time. Only one person on the board had camp experience, but we knew that young people would benefit," says Southin.
Originally a one-week camp with 14 youths, Rainbow Camp® now serves up to 50 youth each week for four weeks. Expansion plans are in the works; over the next couple of years, Rainbow Camp® will pilot on the east and west coasts. "We've had an invitation to duplicate the Rainbow Camp® experience in Australia and in the UK too. It's exciting!" says Stewart.
Above all, Rainbow Camp® provides campers with a safe space to be who they are without judgment.
"I'll never forget our first year of camp. It was the second full day. A camper told us his mom had found a dress in his closet. He lied to her and said that it belonged to his girlfriend. He had brought the dress to camp and said he would like to wear it. High heels and sand don't mix!" Stewart explains, laughing: "But the warmth, love, and compassion that the camper received from everyone at camp was amazing. We tell all of our staff 'Your job is to make sure that each and every camper has the best possible time at Rainbow Camp®.'"
Southin and Stewart say they want the camp experience to be memorable, fun, soul-searching, and supportive. "We don't want any camper to feel afraid to be who they are. I think that's why so many now call it their home."
Your generosity through Mission & Service supports safe, welcoming spaces like Rainbow Camp®. Thank you!
Downloads