"We have never stopped providing three meals a day."
Primary Media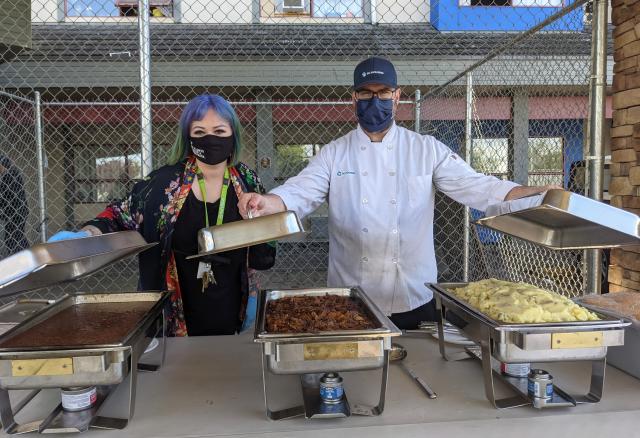 Staff at Our Place serve food outside at a special barbecue for guests.
Credit: Our Place Society
Published On: August 21, 2021
Body
When the pandemic began to ramp up last year, Grant McKenzie, the Communications Director at Our Place Society―a Mission & Service partner―told us one of the questions street-involved guests often asked is "Where will I eat?"
No one asks that question at Our Place anymore.
"The reason for that is simple. We have never stopped providing three meals a day. And as this pandemic continues, we endeavour to make more food options available. Due to social distancing, our kitchen staff need to think more creatively as they plan one-bowl meals that can be safely handed out at our front gates. We are also busy providing water, tea, coffee, and milk," says McKenzie
That doesn't mean there is no stress. The fentanyl crisis, overdoses, magnified social isolation, and mounting stress and anxiety as the pandemic continues take a heavy toll. Still, guests have reassurance that Our Place will continue to offer three square meals a day, whether indoors or out. 
"In this strange and difficult time, my heart breaks with sorrow at the vulnerable people struggling to survive with yet another obstacle in their path, but my heart also swells with pride at the people who are stepping up to help," he says.
Reassurance can be hard to come by in uncertain times. Your gifts through Mission & Service continue to provide steady support during the long COVID-19 crisis. Thank you.
Downloads