"It is an ongoing conversion experience to listen to the voices of each one from the diversity of life striving to do God's work."
Primary Media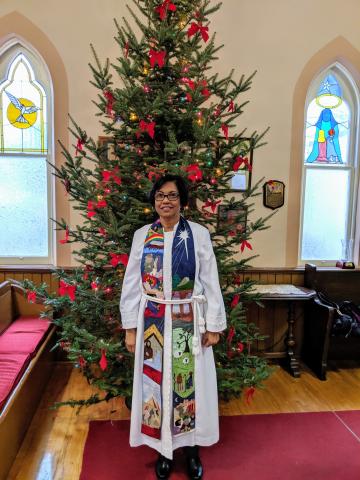 Published On: February 12, 2020
Body
Where: Brampton, ON
Current Ministry: Congregational
Years in Ministry: 27 years
How and when did you know you were called to ministry?
I grew up in a small rural community named Sandhills along the Demerara River, Guyana. The Lutheran Church and school made a tremendous impact on my faith journey. During my teaching career, I was actively involved in the life of the church. In 1986 I attended Luther Seminary, Minnesota, USA, for a program on stewardship. This was my first exposure to formal theological education and women reading the gospel, preaching the sermon, and administering the sacraments. It was a major transformational life experience for me.
In 1989, I entered seminary in the Caribbean and was ordained in August 1993—the first ordained woman in the Lutheran Church in Guyana. The journey has always been eventful and inspiring.
Why did you pursue ministry in The United Church of Canada?
In 2007, I settled in Brampton and worshipped at Grace United Church, where I felt welcomed. The Revs. Jean Leckie and Ross Leckie accompanied me throughout my admission process. The exposure to Liberation Theology is fundamental to my perspective in ministry. The United Church is constantly evolving and reforming itself theologically with both theory and praxis to be inclusive and affirming while pursuing justice, and the proclamation of Word and sacraments.
What has been the greatest part of entering ministry?
While serving in Guyana for 14 years, I participated in many national and international events. It is an ongoing conversion experience to listen to the voices of each one from the diversity of life striving to do God's work. Listening to the stories of a person's encounter with God and being able to share in those transforming moments of life and death matters.
What has been your biggest challenge in ministry?
Ministry in a postmodern world has both joys and challenges. One of the challenges that still puzzles my mind is the ties people have to their building. I am hopeful that same sense of loyalty and commitment will be transferred to their relationships with God, people, and creation.
If someone said they wanted to be a minister, what would you tell them?
I would say to that person God has the last say on your life-changing decisions. Prayerfully discern and read the signs on your journey. There will not always be clarity, but trust God for the new possibility that awaits you. It takes courage to say no or yes! What is the Spirit saying to you?
Other comments about your ministry and vocation?
Culture is the medium of the gospel. Be aware of both institutional culture and the culture of the people you are called to walk with on their faith journey. I love congregational ministry, and it is a joyful experience to do so with passion and humility.