"Our president is talking about killing people who take to the streets."
Primary Media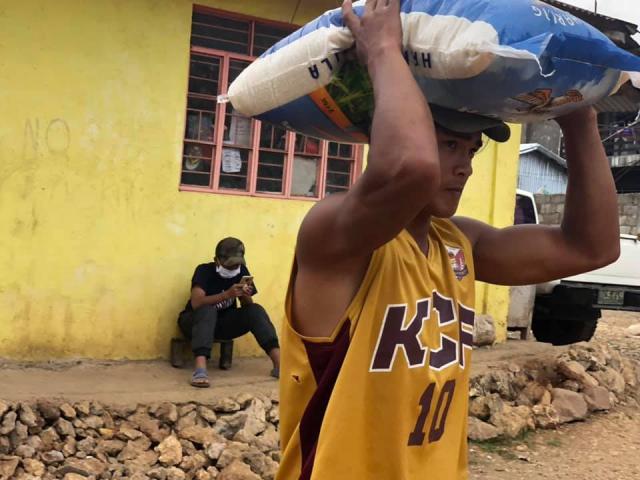 The Serve the People Brigade of the Cordillera Disaster Response Network distributes rice to people in need despite risks.
Credit: Cordillera Disaster Response Network
Published On: May 1, 2020
Body
On Easter Sunday, members of Mission & Service partner advocacy groups* based in the Philippines risked going to jail to advocate for those wrongfully imprisoned. When they demonstrated against the unlawful imprisonment of members arrested in peaceful protests just 12 days earlier, they knew they might well face a similar fate on Christianity's holiest day. The Easter demonstration took place in Sitio San Roque, an informal settlement for the urban poor in Manila, the site of the original protest that was launched to demand the government help people who are starving as a result of COVID-19 lockdowns. 
Bail was set at an astronomical amount, almost $900 Canadian (15,000 pesos). Though bail was posted by supporters, the 21 protestors still face charges.
During their Easter Sunday demonstration, Mission & Service partners protested the violent arrests, expressing concern that Philippino President Rodrigo Duterte is weaponizing laws to crush democratic decent.
"My orders to the police and military…if there is trouble or the situation arises where your life is on the line, shoot them dead. Understand? Dead. I'll send you to the grave.… Don't test the government," Duterte said in a national address.
So far, police claim that over 120,000 Filipinos have been arrested or warned for disobeying quarantine rules.
"We have been writing a lot of statements and making our positions known about the way the government has responded to this crisis because our president is talking about killing people who take to the streets," says Bishop Reuel Norman Marigza, General Secretary of the National Council of Churches in the Philippines. "We are saying that the government should be caring and compassionate, do mass testing, and make sure food is received by people who need it most."
Bestang Sarah Dekdeken, Secretary General of the Cordillera Peoples Alliance (CPA), a Mission & Service partner, claims that authorities are punishing her organization for helping the poor. "The military and police are telling people not to receive food donations we are distributing to the poor and vulnerable negatively impacted by COVID-19. They are saying we are terrorists or communists. They are doing this through social media," she says.
Undeterred, the Cordillera Peoples Alliance is continuing to reach out to those in need, distributing face masks to front line workers and giving food to people who are hungry. Since March 20, CPA has distributed food to over 683 families. Dekdeken says that while the urban poor, stranded students, farmers, and people who are sick are the immediate priority, the organization has to look ahead, too: "We are promoting community gardening now because we want to help people secure food beyond the COVID-19 crisis."
Your gifts through Mission & Service help transform and save lives in Canada and around the world. Thank you! 
Learn more about the Cordillera Peoples Alliance.
*The National Council of Churches in the Philippines through DAMBANA (Damayahan Simbahan sa Panahon ng Disaster) and PCPR (Promotion of Church People's Response).