"If we don't look at this issue and realize we are part of the problem, we can't be part of the solution."
Primary Media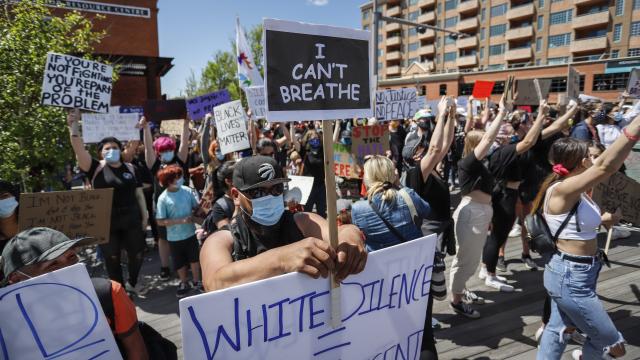 Protesters gather in solidarity with the George Floyd protests in Calgary, June 3, 2020.
Credit: THE CANADIAN PRESS/Jeff McIntosh
Published On: June 4, 2020
Body
George Floyd died on May 25, 2020, after a police officer based in Minneapolis pressed his knee into Floyd's neck for over eight minutes. The footage of the brutal murder went viral, igniting racial tensions and deeply held grief.
In response, Michael Blair, Executive Minister for Church in Mission in the General Council Office, wrote from his heart about his experience as a black man on his personal Facebook page. This is an excerpt:
I need you to know that George Floyd's cry, "I can't breathe," is a daily reality for many of us black folks. It is important, yes, to be angry at the physical violence of a knee to the neck. And know that your silence at the systemic and unending racism that black folks experience daily is in itself an act of the knee to the neck…
I can't breathe, when you leave it to me to name the racism that is in your face yet you keep silent…
When you take the system as a given, and don't question assumptions or the way things are, and are silent…you leave me gasping and fighting for air...
I can't breathe when you want me to represent and you do not ask why there are so few people like me around…and you keep silent…
At the end of his post, Blair challenges readers: "If you are serious about taking steps to name anti-black racism and racial violence (not just the physical) then your starting point is a commitment to stay silent no more…"
Speaking up hinges on awareness.
In 2000, after the United Church formally adopted its anti-racism policy statement, That All May Be One, the denomination began to offer racial justice training; since 2006 the training has been mandatory for all United Church ministry personnel.
For over a decade, your gifts to Mission & Service have supported these racial justice workshops and training sessions. But the racial justice training now hosted by United In Learning isn't just for ministry personnel.
"The training is open to anyone. It helps us work through racial differences and have conversation about racial justice. It's $45 per session, $40 if you pay online," says Emo Yango, one of the United Church's program coordinators. Yango says that the death of George Floyd has provoked him to speak up. "I'm not of African descent but I feel I need to amplify the voice of African descent peoples. The pain that I hear is so much about the silence of their allies," says Yango.
In the days following Floyd's death, Yango helped draft a joint ecumenical letter signed by leaders of the Evangelical Lutheran Church in Canada, the Anglican Church of Canada, and The United Church of Canada in response to anti-Black racism. The letter acknowledges the reality of institutional racism, including within the church, and calls for its eradication. Practically, it advises readers to prayerfully consider joining public expressions of solidarity, and to read books and other materials on Black history and the reality of White privilege, among other things.
Moderator Richard Bott encourages United Church members to delve into the topic of racism both individually and through church structures. "If we don't look at this issue and realize we are part of the problem, we can't be part of the solution. This is the work of White members of the church, and the time has come to commit ourselves to this work, for everyone's sake," says Bott.
Your gifts through Mission & Service raise awareness by supporting crucial racial justice training. Consider taking the training and make a gift to transform lives through Mission & Service.