There's no such thing as quarantine if you live in close quarters and can't feed your family.
Primary Media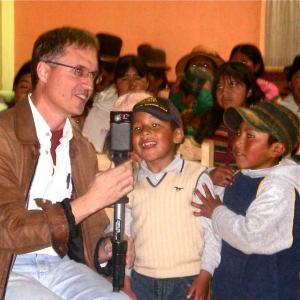 United Church program coordinator Jim Hodgson with children in Los Altos, Bolivia
Credit: Jim Hodgson/The United Church of Canada
Published On: June 24, 2020
Body
Latin America is the new epicentre of the coronavirus. By the middle of May, its daily cases of coronavirus eclipsed both the United States and Europe. Some countries in Latin America are harder hit than others; Brazil's COVID-19 death toll has overtaken Italy's and now exceeds 51,000.
If wild economic inequality and fledgling public health systems throughout Latin America stoked the coronavirus flame, regressive regimes in some countries are fanning it.
"In Brazil, the president [Jair Bolsonaro] continues to deny scientific evidence and ignore the advice of specialists, including his own Minister of Health," says Carlos Rauda, ACT Alliance's Regional Representative in Latin America and the Caribbean. "He tends to minimize the importance and lethality of the virus, which has led Brazil to become the second most affected country, behind the USA."
Even if public safety measures were recommended, some of the most impoverished places wouldn't be able to survive them. For example, over half of the workers in Latin America don't have stable employment. Instead, they scratch out a living doing informal work like shining shoes or selling food on the streets. Millions of people live in crowded barrios and favelas.
There's no such thing as quarantine if you live in close quarters and can't feed your family.
Since 2000, Jim Hodgson has served as the United Church's program coordinator for partnerships in Latin America and the Caribbean. He describes the impact of gifts to Mission & Service in these hard-hit regions:
"Partners count on gifts to Mission & Service and to emergency appeals like the global appeal that we are now inviting people to support," says Hodgson, describing the impact on peoples' lives. "On the ground, our support means that people can share a meal from a cafeteria in Colombia, or drink safe water from community wells in Nicaragua, or receive a small loan to improve a family-owned small business in Guatemala. Lives can be saved because of the action of human rights defenders in Colombia or peace-makers in El Salvador," says Hodgson, who encourages Canadians who can take action to do so now.
"The COVID pandemic has forced many aid organizations around the world to make adjustments as their income from the public or government is reduced," he continues, adding the pandemic has caused high levels of unemployment around the world. Governments have had to shift priorities even as aid organizations warn of increased hunger in the wake of COVID. In Latin America, an estimated 83.4 million people may slide into extreme poverty and hunger this year.
"We know many families in Canada are similarly affected, but we hope that those of us who are fortunate to still have a regular income may dig a bit more deeply to share with people elsewhere," says Hodgson.
Reach out to the world's most vulnerable people. Make a gift today. Your support saves lives across the globe. Thank you.