"I tell them that we'll get through this. We'll lean on each other. We'll come out stronger."
Primary Media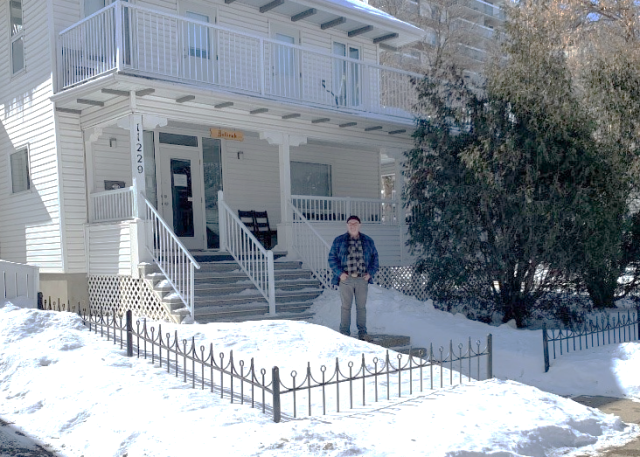 Ed Fox stands outside the Jellinek Society's Recovery House in Edmonton, AB.
Credit: Jellinek Society
Published On: April 20, 2020
Body
Cleaning. Disinfecting. Social Distancing. Protocols if someone falls ill. Online 12-step meetings. Overnight, the normal flow of life has changed at the Jellinek Society's Recovery House in Edmonton, a Mission & Service‒supported 17-bed residence for men in the early stages of the addiction recovery process.
Ed Fox, Jellinek Society's Executive Director, is more concerned about those struggling with addiction living outside the residence than those living under its roof.
"The guys who live here are in a safe place with lots of support. They know they are good. Morale is good. It's the guys living outside of here who drop in for support and meetings that I'm most concerned about; the guys who are out of a job, depressed, and feel that life is going to go down the tubes. These guys would come here for meetings and support and can't now," says Fox, adding that he is trying to keep in contact with them.
Fox predicts that COVID-19 is going to escalate alcoholism, drug abuse, and domestic abuse. He expresses mixed feelings about the government's decision to name liquor stores an essential service, although he thinks that is the right decision.
"I realize that alcohol brings on certain negative behaviours. However, I don't want to see guys have to dry out when the family is at home. There's harm reduction in that decision. On the other side of the coin, there's going to be more of a negative impact because when addicts are bored, they use more. I think we are going to see a spike in overdoses and deaths."
Still, Fox says it's important to be positive. He encourages the men living in the house and those on the outside to find aspects of life to be grateful for.
"I've been attending 12-step meetings for 30 years. I'll be 60 in July. I've seen a lot in that time. I sound like a broken record with the guys, but we need to focus on gratitude and the promises. Many of us have been through worse. I tell them that we'll get through this. We'll lean on each other. We'll come out stronger."
Your gifts through Mission & Service mean that those struggling with addictions get the support they need when they need it most through recovery centres like the Jellinek Society. Thank you!
Learn more about the Jellinek Society.