Eleven young adults from across Canada opted for a different kind of trip, joining the Youth for Peace Pilgrimage to Palestine and Israel.
Primary Media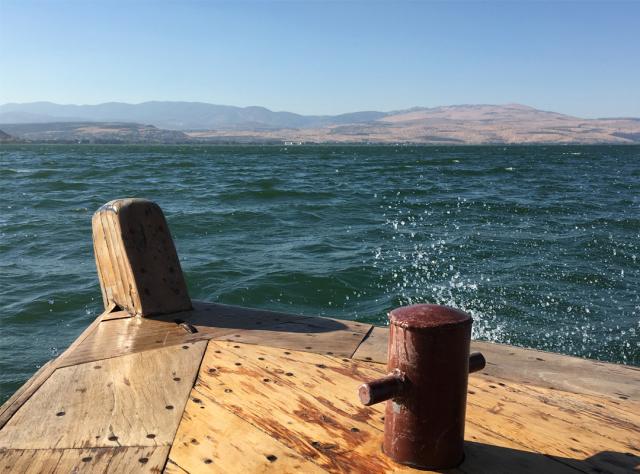 The Sea of Galilee
Credit: Rachel Lambie
Published On: March 12, 2020
Body
This article was originally published in Aujourd'hui Credo in French by Suzanne Grenier in February 2020.
Together on a small, modest boat, on the waters of the Sea of Galilee…
"There was no barrier between the sky and me," Shanna Bernier remembers a moment shared with the small group from the United Church toward the end of their trip in summer 2019. Rachel Lambie shared similar strong feelings, remembering dipping her toes in the water of Lake Tiberias, another name for the body of fresh water connected to the Jordan River and surrounded by the hills where so many of the stories of Jesus' life took place, as told in the gospels. "There was a calmness, a sense of community, and connection to all of the stories linked to this area. I felt like I could imagine what it was like to be one of the first disciples," she said. These water-filled moments were at the end of this whirlwind trip, which was full of all manner of encounters, wonders, and upsetting awareness. Many people visit the Holy Land every year, tourists and pilgrims alike. They arrive in huge numbers from all around the world, and they stop in sacred locations by the bus-full. These stops are often brief, allowing for a quick look around before heading immediately for the next destination. Shanna, Rachel, and nine other young adults from across Canada opted last year for a different kind of trip, joining the Youth for Peace Pilgrimage to Palestine and Israel.
Alternative Tourism in the Holy Land
Thanks to local partnerships, it is possible to visit the Holy Land in a way and at a pace that allows for real human connections. It also means that visitors have the chance to be close to the daily activities of the people who have lived in these areas which have been steeped in this culture for millennia. Inevitably, a journey under the surface of the more touristy routes of this part of the world brings awareness to the realities of one of the most complicated and difficult to parse geopolitical conflicts of our era. The United Church of Canada is offering a similar experience to Palestine and Israel in summer 2020, aimed at the francophone community. Alternative tourism means that it is possible to personalise the itinerary of the trip while keeping in mind the interests and preferences of the participants. For the majority of Shanna and Rachel's trip, the group stayed in Bethlehem, in a hotel just steps away from the Church of the Nativity in Manger Square. This choice allowed the group to immerse themselves in the day to day life of the city in the West Bank, while also taking part in numerous day trips to other destinations, including Hebron, Jerusalem, and Jericho.
Make Tea, Not Walls
As a city that is sacred to three monotheistic religions, Bethlehem is part of the territory occupied by Israel since 1967. Most of the Palestinians in the area are Muslim, and while the community of Christian Palestinians is small, it is significant. They form one of the oldest Christian communities in the world. Since 2002, the city has been isolated by a barrier, which separates Bethlehem from Jerusalem and other Palestinian areas. All movement between these areas must go through Israeli-controlled checkpoints.
Wi'am (named for an Arabic term meaning "cordial relations") is found in the shadow of this wall, and it was the principal host for the group during their trip. This local partner works on the ground in Palestine to promote peace and justice, as well as providing mediation and working towards autonomy of community in the context of the conflict. The expression, "make tea, not walls" can be seen all around Wi'am, including on the sign welcoming locals and visitors. This mantra is a wonderful reflection on the type of resistance practiced by Wi'am and its founder, Zoughbi Alzoughbi. Shanna and Rachel were both stuck by Zoughbi's unique ability to merge humour and humanism, and the Palestinian Christian's spirit was an invaluable part of the group's experience. "A few days after our arrival, we were invited to an engagement party for a member of Zoughbi's family. The party was amazing, and it almost felt like we were part of the family, too," Rachel said. Contact with partners like Wi'am allows for access to the lived reality which exists behind the apparent neutrality of the more traditional organized guided tour.
Shanna's Experience
Shanna Bernier admits that before this unforgettable trip to the Holy Land, she didn't really have the "travel bug.": "I hadn't really done a long trip by airplane, but when I saw the announcement, I felt a very strong call. Despite this being my first big trip, I felt at home in Palestine and I would like to return."
Motivated by a desire to learn, Shanna is also a teacher and an event organizer. After studies in fine arts and training as a high school teacher, and with lots of experience working with children and teenagers, Shanna accepted the responsibility of youth and young adult programming for the Conseil regional Nakonha:ka regional council for The United Church of Canada. She was raised in the church, and as an adult with progressive values, she continues to feel like it is home. Shanna is inspired by her faith, but she wants to evolve in an environment which is not inward-looking, one where LGBTQ+ people can marry, where women can lead worship, and which uses innovative liturgical practices.
Despite not having studied theology in a formal setting, Shanna has a long-standing relationship with the biblical narratives, and the Holy Land was already in her imagination before she ever set foot there. Even her community of faith, Plymouth-Trinity United Church in Sherbrooke, Québec, organizes interfaith activities with the local Jewish and Muslim communities. These events provided her with basic knowledge of the situation in Palestine and Israel. When it came to preparation, there were many suggestions provided, but the one that really stuck with her was The Lemon Tree: An Arab, A Jew, and the Heart of the Middle East. Reading this book gave her some sense of the complex tensions which exist in that part of the world, within their historic and human dimensions. To be on site, to the feel the presence of a highly militarized state, and to witness the enormous limitations which are imposed on the lives of those in this occupied territory was nevertheless a shock.
"I felt safe from start to finish, but I was also aware of our privilege as international visitors and as Canadians. Everywhere we went there were so many checkpoints, and it is very difficult for Palestinians to leave Bethlehem," explains Shanna. She continues: "It is easy to go to Israel and not to see Palestine, but once people understand that we are not there only as tourists but to hear their stories, they start talking, and they have a lot to say." In some countries, destroyed buildings are clear evidence of the damages of war. In others, the presence of beggars is a sign of extreme poverty. In Palestine, the suffering is directly related to constant surveillance, to dispossession, to the limitation of human rights, to displacement and the possibility of finding work. And there is always the intimidating omnipresence of the military.
[A trip with a thousand sides: Shanna and Rachel in front of the Dome of the Rock on the al-Aqsa mosque complex in the Old City of Jerusalem (photo: Rachel Lambie); Shabbat in Hebron, when the group walked through an Israeli settlement on streets where Palestinians are not allowed to go; the Church of the Nativity in Bethlehem (photo: James Walker)]
Shanna was stunned by the large posters put up by the Israeli state next to the checkpoints which outline the risks that can occur in Palestinian zones: "It sends a message to Israelis and to international visitors that Palestinians are terrorists," she explains. Does that include the Palestinian craftswomen whose moving stories she heard the day before in the market? The Palestinians with whom the Canadian pilgrims had long discussions as they all ate together? Zoughbi, who works to forge mutual relations between these communities? The fact that she got to know these people, to approach their realities, helped Shanna to realise once again with more acuity the violence that these ideas construe: "Even if I am very progressive, open, and if I am very against Islamophobia, I realise that there is a largely internalized tendency to think of Arabs as dangerous people, who try to destroy things. And that is an idea conveyed by many groups, not just within Israel."
Rachel's Experience
Rachel Lambie also grew up in an environment where religion was often talked about around the dinner table; while many members of her family are clergy, her mother, Cathy Hamilton, was pursuing her theology degree while Rachel was in high school. This teenaged interest continued and followed its own path, leading Rachel first to a master's degree in religious studies and then a second master's degree in museum studies. As part of her first Master's Research Project, she studies the Dead Sea Scrolls and the presence of women in the cemetery at Qumran, near where the Scrolls were originally discovered in the Jordanian desert. She speaks Modern Hebrew and reads Biblical Hebrew. She was a guide at the Museum of Jewish Montreal and currently works for the Montreal Holocaust Museum. "In some ways, I am pretty immersed in the Jewish culture here," she says.
In the midst of a first study trip to the Holy Land in February 2019, she already had the urge to come back: "I was going to be able to re-visit the Old City of Jerusalem, which is one of my favourite places in the world. I don't know if it's because these places are so old, or because they are sacred for so many people, but there is a kind of magic to them that makes them hard to resist. But at the same time, the conflict between the Palestinians and the Israelis can't be ignored and it's something that touched me deeply while I was the first time, and I was motivated to come back in order to try to understand it better."
Rachel reads a passage from her journal out loud: "August 16, afternoon, having returned from the Aida Refugee Camp. 'Are you ok?' 'I don't know.' I feel overwhelmed – with emotion, with heat, with pain, just in general. Overwhelmed. I wish I had more words to express what we saw. The camp was founded in 1948, by the (new) United Nations and it was originally tents. Some of the people who live there now feel like it is still temporary; there are three generations of refugees in the camp today. They rent the land but own the houses. I am horrified by… everything. And then, that same day, we went to a Sabbath service."
[The Key of Return, at the entry of the Aida Refugee Camp in Bethlehem. This key symbolizes the right of return for Palestinians displaced by the State of Israel and who kept the keys to their houses in Palestine. The same symbol is reproduced throughout Palestine, including in jewelry sold in Aida made from tear gas canisters. (photos: Suzanne Grenier)]
Upon returning to Montreal, Rachel had difficulty finding the words to talk about her experience with some of her Jewish friends. How could she reconcile her love of the culture and the Jewish history, which she has spent so much time studying, with the military presence in the State of Israel? Particularly when that presence imposes colonisation that is so damaging to Palestinians. How do those whose values are more about connection, or bringing people together and reconciling, figure out how to respond?
"At the core of all religions is love. If a religion isn't created from love, there's something wrong," she points out in the fact of an apparent impasse. During the trip, the pilgrims shared poems and prayers at the start of each day to help get themselves into a space where they would be ready for whatever the day might give them. Rachel's choice was a poem by Emily Dickinson, which talks of hope, and in Rachel's opinion, faith:
"Hope" is the thing with feathers –
That perches in the soul –
And sings the tune without the words –
And never stops – at all.
And sweetest – in the Gale – is heard –
And sore must be the storm –
That could abash the little Bird
That kept so many warm –
I've heard it in the chillest land –
And on the strangest Sea –
Yet – never – in Extremity,
It asked a crumb – of me.
Faith, for Rachel, also has a community aspect, which she puts in simple terms: "It's the act of coming together to do the best we can."
One World with Many Voices
"Many people that we met told us that it was important to hear many voices, many perspectives, even if it's difficult, because that is how we grow," Rachel reflects.
Following her trip, Shanna also considered how important it is to share what she learned in Palestine regarding the situation in Québec surrounding diversity: "Religious institutions have caused all kinds of suffering in the past. But today, the government is trying to eliminate religion in the public sphere and to erase all traces of religious culture. In this moment, we have created new taboos and zones of ignorance. And that is an area that is fertile for stereotypes. As a mother and a teacher, she also says, "It's a shame, because I think it's really easy for children to understand that there are a diversity of ideas and that it's exactly these differences that make the world interesting. I see it with my six year old. She wants to understand injustices, and her mind is really open. The approach that means never exposing children to the diversity of ideas and cultures is harmful, and I think it's dangerous for the Québec education system to adopt this way of thinking."
Here, and everywhere. When asked about what she would want a future pilgrim to keep in mind, Rachel said, "Don't be afraid. Bring a lot of sunscreen. And above all else, bring an open heart and an open mind. Be aware that this experience can change you."
 — Suzanne Grenier is editor-in-chief of Aujourd'hui Credo.