"We know that the Spirit speaks through music, and we are exploring new ways to listen."
Primary Media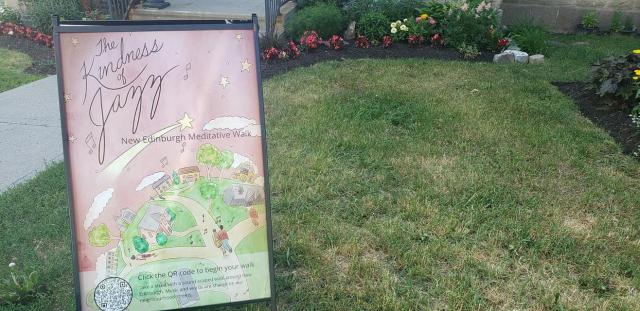 A sign outside MacKay United Church directs participants to sonic walk coordinates.
Credit: Trisha Elliott/The United Church of Canada
Published On: June 23, 2021
Body
The meditative walk in the neighbourhood around MacKay United Church located in the nation's capital kicks off with a quote from 13th-century Persian poet Rumi: "There are many roads leading to God. I've chosen that of music and dance."
There is no live guide speaking the words or playing the music streaming through earphones. Instead, the church's minister Peter Woods, also a jazz musician, uses SonicMaps, a geolocated listening platform to facilitate the walk. Participants tune in by clicking a link or scanning a QR code. Turning a corner from one zone in the neighbourhood to the next, the music and message change.
"As the pandemic unfolded, we quickly realized that concerts and other typical ways of sharing music and spirituality through jazz wasn't going to happen. We transitioned our weekly Kindness of Jazz music and meditation evenings online and embraced other technologies to minister to people safely," says Woods.
In a traumatized community of artists, these initiatives sparked new relationships. Guest co-hosts and musicians offered leadership from as far away as Ireland, South Korea, and San Salvador.
"I love how vital the connections have become amongst artists, across tech platforms and with spiritually resonant friends. Music, in this context, is the soundtrack to sacred moments and revelations. I feel great joy to witness this work unfolding. Improvised music is so often in service of the sacred, but now more than ever," says Woods.
Sonic walks and online music collaborations are the tip of the creative iceberg. The last few years have been full. EvenSong, the band Woods plays with, released its album Songs from the Bridge in 2019. The church hosted a bustling night market serving up local food and showcasing the work of artisans beneath a moody cover of white lights and floating jazz. Most recently, Woods released a meditative video called Arise, My Love featuring original music coupled with photographs taken by the United Church's General Secretary Michael Blair.
Many of Woods' most innovative projects have been supported through the United Church Foundation and Mission & Service Embracing the Spirit grants administered by EDGE Network.
"We know that the Spirit speaks through music, and we are exploring new ways to listen," says Woods. "In the chaos of this time, there have been many blessings and much creativity. That positive energy is the way forward. We are learning and sharing what we learn with the rest of the church."
By supporting learning, creativity, and innovation, your gifts help the whole church discern a path for the future. Thank you.
Downloads