ASWA supports single women in Rajasthan to defend their rights.
Primary Media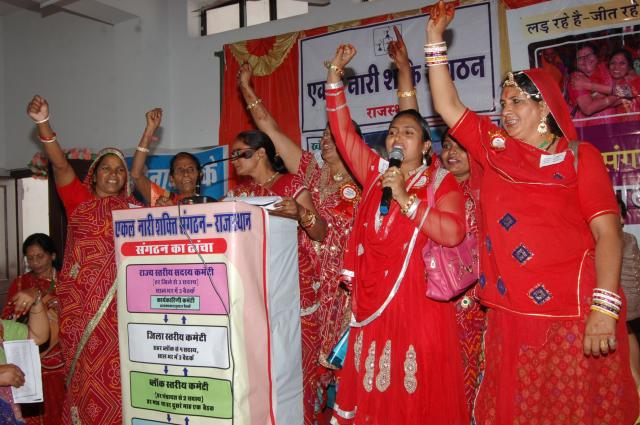 Credit: Astha Sansthan's Association of Strong Women Alone
Published On: February 14, 2022
Body
March 8 is International Women's Day, a day that is all about celebrating women's achievements and calling out inequality. Geeta's story is one example of why marking the day is so important.
When Geeta's husband died she not only lost her life partner but also her home. Because she was no longer married her in-laws wouldn't allow her to stay in their multi-generational residence.
Geeta is just one of an estimated 72 million women in India who are not married—nearly double the entire population of Canada. In India, most women are expected to marry and then live with their husband and his family. Unmarried women, even those who are widowed, are often seen as dishonourable. Like Geeta, they may suffer abuse.
Fortunately, Geeta was able to flee to her parents' home with her two younger children, but many parents will not allow their newly single daughters to return.
While Geeta and her younger children stayed with her parents, her in-laws stole her jewellery, changed the locks, and kept her two older children from her. That's when she turned to Mission & Service partner Astha Sansthan's Association of Strong Women Alone (ASWA) for help.
ASWA supports thousands of single women from low-income backgrounds in Rajasthan to defend their rights. The organization has also shared their advocacy methods and experiences with other groups across India.
Thanks to ASWA's help, Geeta's in-laws ultimately had to give back her jewellery, unlock her home, and return her older children to her care.
Today, Geeta is living peacefully with her children in her part of the house.
Your generous support provides life-saving advocacy. It is one way your gifts address crushing inequality and help build a better world for all. Thank you!
Downloads