UN Sustainable Development Goal 5: Gender Equality
Primary Media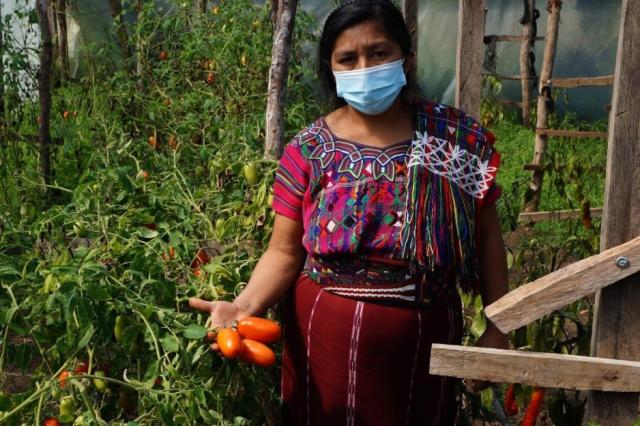 Through an agricultural and food security project, women see improvement in the quality and abundance of vegetables. This project is supported by the United Church and the Guatemala Conference of Evangelical Churches.
Credit: Guatemala Conference of Evangelical Churches
Published On: February 9, 2021
Body
For International Development Week 2021 (February 7‒13), the United Church highlights Mission & Service partner the Guatemala Conference of Evangelical Churches, which is empowering women and addressing gender inequalities in Guatemala.
In the Indigenous community of San Martin Sacatepéquez, the Guatemala Conference of Evangelical Churches (CIEDEG) works with Ixil and Mam women to strengthen their capacity through training programs. The goal is to empower the women to generate change and to create a place for them to gather to offer mutual support and knowledge.
While they make up 43 percent of the population, Indigenous people in Guatemala, particularly women, face discrimination in all facets of their lives. Illiteracy rates among Indigenous women are high:43 percent compared to 19 percent for non-indigenous women. Access to financial resources, health services, and education are limited. Women in Guatemala, particularly Indigenous women, are also vulnerable to gender-based violence.
CIEDEG's training is aimed at women, single mothers, widows, and young women. Sessions include topics such as human rights and gender equality, entrepreneurial skills for small-scale women farmers, and COVID-19 safety and hygiene. Women strengthen their leadership skills and knowledge of their rights. The agricultural training helps them to improve their crops and increase food production in their small gardens. Livelihood training provides the women with the tools to create small businesses. The results are improved nutrition for their families, increased household income from selling vegetables, and more confidence gained to navigate spaces normally dominated by men.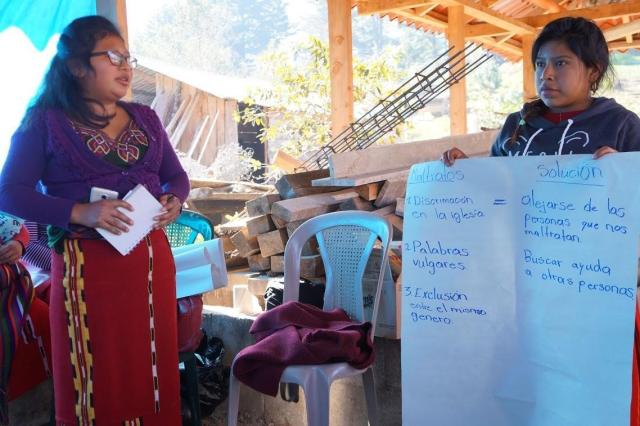 Human rights and gender workshop
Credit: Guatemala Conference of Evangelical Churches
Catarina, a volunteer community leader, says, "[CIEDEG] helped me in knowledge and through financial support has contributed to cover the survival of my family. As a single mother I have taken care of getting ahead with my two daughters in health and education, and I currently support my mother, who recently became a widow. At the same time the family gardens have helped me minimize food expenses. [CIEDEG] has helped me to know the rights of women and that we are worthy, and the value of caring for the family."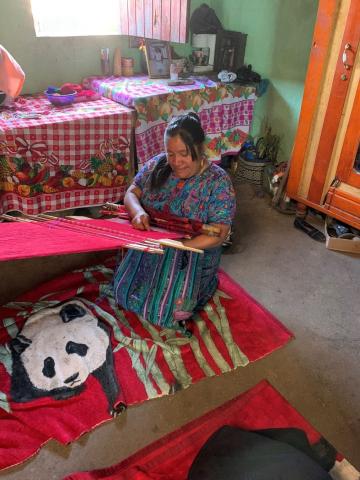 Catarina, a participant in in CIEDEG's training programs, is an avid weaver, women's leader, and promoter of sustainable agriculture in the community.
Credit: Guatemala Conference of Evangelical Churches
The United Nations Sustainable Development Goals (SDGs) provide "a shared blueprint for peace and prosperity for people and the planet, now and into the future." The work and ministry of many of our Mission & Service partners help ensure education access and economic and social participation for all, especially women and girls.
―Story translated and adapted from information provided by CIEDEG, with thanks.