Thanks to the support of Canadian Foodgrains Bank, Amei can feed her family.
Primary Media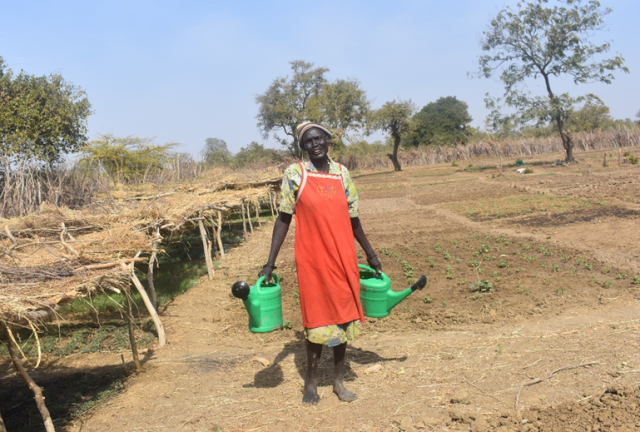 Amei is participating in the food assistance project implemented by Tearfund Canada and funded by CFGB and The United Church of Canada.
Credit: John Deng/Tearfund
Published On: June 29, 2020
Body
Last year, Amei's family had nothing to eat but wild fruit. On good days, Amei's neighbours gave her their leftovers. But those days were few and far between.
Amei is 61 years old and has lived in Aweil East County of Northern Bahr el Ghazal, South Sudan, for 40 years. Over a decade ago her husband abandoned their family, including their four children. To get by, Amei collected firewood and sold it to feed her family. But now, her body is too weak. Chopping and hauling wood is too hard at her age.
Thanks to the support of United Church partners, Amei's life has changed for the better.
"I was able to receive food for my family. I received assorted food items such as sorghum, beans, cooking oil, and salt. I am able to cook nice food for my family. We also received vegetable seeds and tools to cultivate our own food. I am in a farmer group, and we received seeds of okra, kale, eggplant, onions, cabbage, carrot, and tomatoes, including tools such as watering cans, axes, and hoes for each of us. We have fenced our gardens as a group, and we come here every day to water them. We talk and pray that crops are good and appreciate those who are helping us," says Amei.
The support means hope for Amei and her children.
"I have survived the hardest part of this disaster, where I thought I would die. I can now eat three meals a day and am optimistic that the harvests from my garden will provide food for my family. I know the future is bright," she says.
For over three decades, just one of the ways the people of the United Church have worked to end world hunger is by partnering with 15 Canadian churches and church-based agencies that together form the Canadian Foodgrains Bank. The Christian organization provides food in times of crisis for hungry people in parts of the world where there is high food insecurity, teaches people how to grow their own food, and provides nutritional education.
Last year, the Canadian Foodgrains Bank helped over 800,000 people in 36 countries.
United Church partnerships with organizations like the Canadian Foodgrains Bank that are addressing global hunger are critical. Especially now.
Acute hunger is set to double in the next decade because of COVID-19. The latest figures from the United Nation's World Food Programme predict that more than 250 million people will suffer acute hunger by the end of the year.
That's nearly double the number of people the 2020 Global Report on Food Crises says were going hungry before the pandemic struck.
"The United Church has been part of initiatives that save lives and support vulnerable people in the world living in the midst of crisis. Working with partners, we can and do make a difference," says United Church Moderator Richard Bott.
Make a gift to the United Church's global COVID-19 appeal and ensure that people like Amei don't go hungry. Your generosity saves and transforms lives. Thank you!